Ajax Pagination Script
Tagged:
The folks over at Dynamic Drive have put together a nice ajax based pagination script that lets you draw content from multiple pages and display them on demand, using Ajax. Pagination links are automatically created, with each page downloaded only when requested (speeding up delivery and saving on bandwidth. An overview of this script now: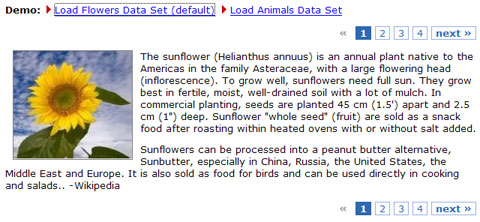 The pagination interface for each Ajax Pagination instance is "free floating", meaning it can be positioned
anywhere on the page and repeated multiple times as well.
Each page within the paginated content is fetched individually and only
when requested for sake of efficiency.
The settings for each Ajax Pagination instance is stored neatly in a
variable object for ease of portability. This variable can be manually
defined or easily dynamically written out based on information returned from
the sever, such as via PHP/ MySQL.
The entire paginated content can be refreshed with new data on demand,
with the pagination links updated automatically as well.

This script is ideal for showing multi-page content such as
"user comments" without reloading the rest of the page each time a
comment page is requested.
Click here to visit the site and to download the script.
Dynamic Drive also has a Virtual Pagination Script that lets you "transform long content on your page into a series of virtual pages, browseable via pagination links. The broken up content pieces are separated simply via arbitrary DIVs (or another block level element of your choice) with a shared class name." Read the full post on the Virtual Pagination Script
Let us know your experience with the Ajax Pagination Script or with any other pagination script you've worked with.