MooFlow - a JavaScript Fisheye Photo Gallery
Tagged:
Nothing says "Razzle Dazzle" like a fish-eyed Apple iTunes-like photo gallery effect. So, here we are to present a creation of outcut.de called MooFlow that does just that. Built using the MooTools JavaScript Framework, MooFlow is currently in beta at version 0.1.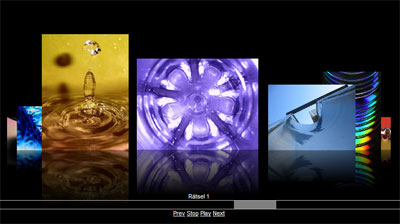 Features
* Autosetup onload
* Autoresize on changes of Window dimensions
* Scrolling with mouse wheel
* Scrolling with key input (left and right cursor)
* Autoplay presentation loop

Requirements
MooTools V.1.2 Framework
* Class: Class
* Native: all
* Element: Element.Event
* Element: Element.Dimensions
* Window: Window.DomReady
* Plugins: Slider

Compatibility
MooTools is compatible and fully tested with Safari, internet explorer 6 and 7, Firefox (and its mozilla friends), Opera and Camino.

Performance
If you use Firebug - disable it for testing.
Best image interpolation in Opera and Safari.
Code & Documentation is available at outcut.de