BuddyBlend New Features
Tagged:
If you have been using BuddyBlend you have probably noticed the addition of a few new features and services.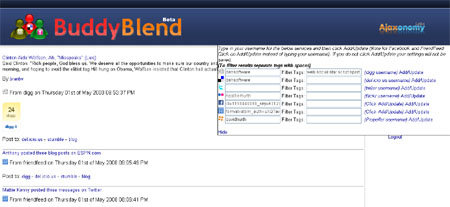 BuddyBlend now support the Propeller.com social network. We are working on adding more services, so keep an eye as we will be adding many more over the next month.
The next feature is the addition of the digg counter on all digg content. We hope that this will help keep you more connected to your digg friends.
The last and perhaps biggest new feature is the filter feature. This allows you to put tags or keywords that the system will look for to filter your friends activity! So, if you are only interested in Ajax, PHP and Java then it will only show your friends activity that has to do with these items.
We will continue to work to improve BuddyBlend and we would love to hear your thoughts on ways to improve the service.
BuddyBlend