Find the Stories Digg Doesn't want You to Find
Ajaxonomy's Digg Bury Recorder has added a new feature, you can now see the top buried stories. Our hope with this new feature is that you might find interesting stories that you may not otherwise know about.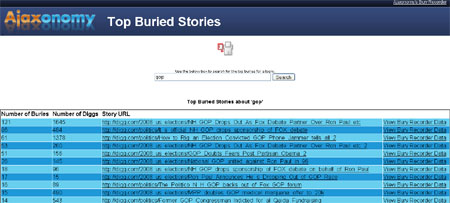 You can also search for the top buried stories for a particular subject. So, if you want to see the top buried Ron Paul stories, just search for Ron Paul and you will get quite a few results. Another couple of searches to try are iPhone and SEO.
The Top Buried stories are based on data from Ajaxonomy's Bury Recorder (some have started referring to it as ABR). ABR gets the bury data from all upcoming and popular stories, however once the story is fully buried (or auto buried which would possibly show no buries) it will not record any buries from the story as it has been fully buried. This means if a story is fully buried the last recorded bury is the bury that pushed it over the edge.
We hope that this list will be a welcome addition to the ABR. If you have any suggestions or questions about the ABR please leave a comment or if you think it would make a good blog post then sign up for a free account on this blog and write a story about it.
The below links will take you to the Ajaxonomy's Bury Recorder new feature and the application.
Digg's Top Buried Stories
Ajaxonomy's Bury Recorder