The New Alexa Rankings
Tagged:
If you haven't noticed, Alexa has changed their rankings. The site that attempts to put a ranking on all sites on the internet now takes data from more sources in an attempt to give more accurate ratings.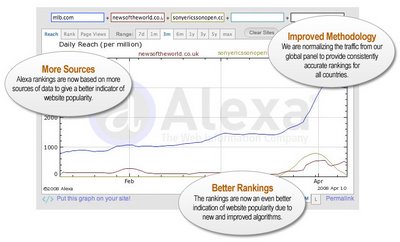 Below is an excerpt from the Alexa blog.
When Alexa began displaying rankings in 1998 it was with the goal of showing Alexa Toolbar users how popular any given site was within the Alexa community. We generated the rankings through an analysis of Internet usage by people who use the Alexa Toolbar. Since that time we've been delighted to see that the Alexa Rankings have become a yardstick by which website popularity is measured. We are grateful to the thousands of people who come to Alexa.com each day to check the Alexa Rankings.

In recent months we've heard from our Alexa users that understanding Internet usage beyond Alexa Toolbar users was increasingly of interest. Ask and you shall receive!

We listened to your suggestions, and we believe that our new rankings system is much closer to what you asked for. We now aggregate data from multiple sources to give you a better indication of website popularity among the entire population of Internet users.
You can read the full post here.
The change is very interesting especially if you look at tech websites. Many technology blogs have gone down by as much as 300,000 from what they where before the change. This change is an interesting one and a good one if the numbers are more accurate as to how much of the actual internet population are viewing a site. If you have any thoughts on the new Alexa rankings then I would love to hear them.