Ajaxonomy's del.icio.us Spy - Released!
You are probably familiar with Digg Spy, but I was very surprised when I found out that there was no similar application for del.icio.us (if you are not familiar with del.icio.us it is a great social bookmarking site).
So, we at Ajaxonomy we decided to make our own del.icio.us spy application. The application allows you to see the latest bookmarks being added to del.icio.us so that you can find great new sites. The application also includes links to help make it easy to share what you find with others.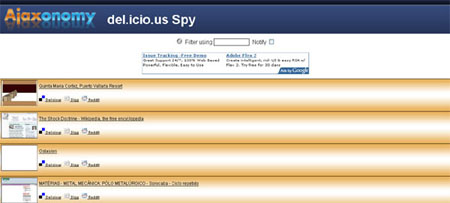 The application allows you to filter results (i.e. type in "web" and you will only see links containing the word web) and to be notified (via sound) when new items are added. The application also allows you to pause the items that are shown so if you find something you like you can see it for a while.
You can go to the application by clicking here. The application will also be available in the Ajaxonomy Labs section on the right bar of this blog.
As with all the applications in the Ajaxonomy Labs section, this application is open source and you can download the source code here.