del.icio.us Spy - New Features
Ajaxonomy's del.icio.us Spy has received quite a positive response around the blogosphere, however, there is always room for improvement. So, having read some comments from people we have decided to make some of the improvements that where in these comments.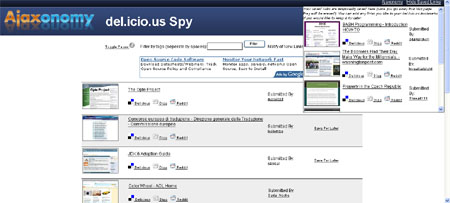 The improvements and new features can be found below:
Improved Filtering: The previous version filtered links based on the title of links. The new version filters links based on the links del.icio.us tags.

Submitter User Id: The new version displays the user id of the submitter of the link. This allows for users to view other links from users that they think provide interesting links.

Save For Later: The application now has a Save For Later feature which puts the links that the user thinks are interesting into a temporary holder, so he can go back later and investigate the link. If they like the link they can permanently save it using del.icio.us or another social site.
We hope that you continue to find the del.icio.us Spy useful and would love to hear any additional feedback that you have.
You can get to the application from the Ajaxonomy Labs section of this site (on the right side bar) or you can go to the application here.