Google unveils new, slicker, faster iPhone-specific interface
Over at last100.com they have posted information on the new Google interface for the iPhone. The interface looks very slick and is apparently very fast (not being a lucky iPhone owner I can't test it out, but if any body wants to send me one let me know).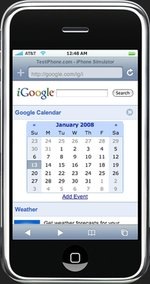 Below is an excerpt from the story.
Vic Gundotra, a vice president of engineering at Google, told CNet that — as a result of lots of people getting iPhones for Christmas presents — the number of queries on Google search from iPhones surpassed the number of queries from Symbian-based phones for the first time.

Think about it. Symbian is the market leader, used on phones from Nokia (the world's No. 1 handset manufacturer), Motorola, Samsung, and Sony Ericsson, among others. The iPhone's user base is comparatively teeny-tiny since the phone's introduction last June.

Of course the "Christmas crossover", as Google calls it, lasted only a few days, but as CNet rightfully notes,"It shows the impact the iPhone is having on the telecommunications industry and provides a glimpse into its future market potential on the Web."

"It's about usage, not just units," Gundotra said in an interview with CNet. "The data proves that people are using the browser on the iPhone."

igoogleBy providing a quicker, slicker user interface, more customization, iGoogle gadget integration, and more speed for all apps, Google is acknowledging the iPhone's rosy future. iGoogle on the iPhone can be reached by pointing the phone's browser at google.com/ig/i.

The standard mobile version of Google, made available just over a month ago, is still available at google.com/m, but it's more limited and is available only in the U.S. It brought together a suite of applications like search, Gmail, Calendar, and Reader into one easy-to-use interface.

With Google for the iPhone, users will get an improved UI optimized for the touch screen, customization of default tabs (easy access to favorite applications), faster Gmail (email automatically show up, no refreshing needed), a speedier Calendar (including a new month view), and iGoogle.
You can see the new interface by pointing you iPhone (or computer browser) to http://www.google.com/ig/i.
You can read the full post by clicking here