jQuery UI 1.5 - Rethinking UI
Tagged:

Congratulations to the jQuery UI team on their release of jQuery UI 1.5!
jQuery UI provides low to high-level interactions and themeable widgets for your rich internet applications. Since it's built on the jQuery JavaScript Library, you have a solid foundation on which to build your apps. The library revolves around different mouse interactions, including drag/drop, sorting, selecting, and resizing. Also, you can expect to find the jQuery Enchant effects framework along with some reusable widgets [accordions, date picks, dialogs, sliders, and tabs] included in this release.
What's new?
- Refactored API
95% less exposed methods means 95% less methods you have to remember.
- Increased Stability
A dedicated bug tracker, new unit tests, and the addition of jquery.simulate.js - a plugin specifically designed to fire true browser events..
- Effects
As mentioned above, this release includes Enchant as a part of jQuery UI and includes features like advanced easing, class transitions (morphing) and color animations. You also get all the effects that come standard with script.aculo.us (blind,bounce,drop,fold,slide …), but also some new effects like transfer, explode. clip, and scale. Check out the demos.
View the changelog for a full list of features, bug fixes, and other changes in this release
Imagine you've downloaded a new UI library and are ready to integrate it into one of your applications, what's one of your big obstacles? That's right, figuring out how to get it to match your application's color scheme and look and feel. Wouldn't it be nice if you had a tool that could easily do most of the work for you?
Well get ready for ThemeRoller: a new theme creator for the jQuery UI library created by the crew at the Filament Group in Boston.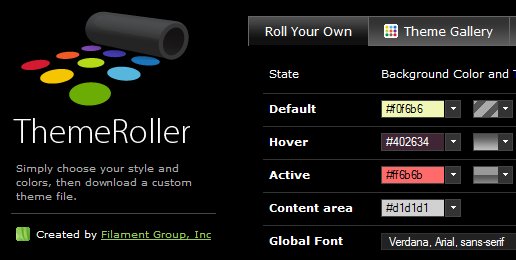 ThemeRoller gives you the ability to style your jQuery UI components in minutes. You can easily preview your theme as you make adjustments and when you're done, you can download a ZIP package containing the css, image, and demo page files for your theme. If you don't feel like rolling your own, or maybe want some inspiration, check out ThemeRoller's gallery to browse and download a variety of predefined themes.
Special thanks has to be given to the Liferay staff, who invested countless hours into the development of the new UI website, and with whom the team worked closely together to stabilize jQuery UI for all kinds of enterprise situations.
jQuery UI v1.5 Final Release: http://ui.jquery.com/download