Blogs
Tagged:
Visual WebGui is about to release an ASP.NET Control Wrapper which will be included in the upcoming SDK release.
The ASP.NET Control Wrapper enables the adaptation of any ASP.NET component to a VWG control, whether bought from a third party such as Infragistics, Telerik, DevExpress, etc, or created independently. This will surely increase the richness of your control library by utilizing any available ASP.NET control.
The new wrapping feature is not only useful but also simple to use. In a few quick steps the desired control is "wrapped" and ready to use in a VWG project by dragging & dropping it.
The VWG development team is working extremely hard these days in order to make it into the next Visual WebGui release which is expected in the next few days.
Stay tuned for more detailes as it is released on www.VisualWebGui.com.
Tagged:
jQuery has quickly become one of the most used JavaScript libraries around. Google Maps is possibly the most popular mapping website on the web. Wouldn't it be nice to connect the two easily using a small library? Well, jMaps is a library that does just that and version r64 has just been released.
Below is a rundown of the main features as posted on the jMaps Google Code page.
jMaps is a jQuery plugin that provides a really easy API to create and manage multiple google maps on any page.

Geocode and reverse any valid address in the world via Google's geocoding API
Search for directions to and from any location
Add and remove Markers
Add and remove polygons and polylines
Add and remove graphic layers on the map
Add and remove Google adsense layers
Add and remove Traffic layers
Get information back such as map center, map size, map type, etc
You can go to the Google Code page here.
Tagged:
Looking for a good book on web development? Well, over at Nettuts they have put together a good list of 50 good books. So, if you are looking for a good book on web development this list should have quite a few good suggestions.
Below is an excerpt from the list.
Frameworks

8. Agile Web Development with Rails

Ever since Rails took the development world by storm a few years back, there has been plenty written about the Ruby framework. But you can't find a much better resource than one written by Rails creator David Heinemeier Hansson.

9. Python Web Development with Django

Django is an excellent python framework, and one that is highly respected in the development community. Python Web Development with Django is 400 pages of excellent techniques and tutorials for learning django development.

CodeIgnitor is a PHP-based framework that has shown excellent promise amongst other frameworks. Professional CodeIgnitor gives an overview of MVC programming, and outlines how to build excellent web applications with CodeIgnitor.

11. Beginning CakePHP: From Novice to Professional

Beginning CakePHP: From Novice to Professional is a handy paperback for beginners trying to learn the MVC-based framework, but also, as the name implies, is highly useful for an intermediate or advanced CakePHP programmer. The book claims it's geared for...

...an audience of developers already familiar with PHP but who may not be PHP experts. This book is tailored for those new to CakePHP and who want a thorough tutorial.
You can read the full post here.
Tagged:
The new 'empty client' approach lead by Visual WebGui to AJAX is set to offer fundamental, infrastructure solutions to the three major setbacks of AJAX listed bellow. This approach shifts all processing, including UI logic to server, much like the old Main Frame paradigm did, and leaves the web client empty.
The first setback of traditional AJAX is the complexity in creating AJAX application for enterprise's scenarios which is time consuming and therefore brings doubtful ROI. The second setback is that there is a lack of AJAX technologies that can support high level data centric enterprise applications. The last but not least in importance, is security concerns as AJAX is known to raise real security concerns which enterprise applications with sensitive data cannot tolerate.
If the client is empty, everything is processed on the server. This concept enables highly productive, desktop development methodologies for web development as well as allowing complex applications running responsively on the network. Finally, since there is no data, no logic and no open services on the client, this approach presents a highly secured alternative to conventional client-side AJAX.
You can read more about the design time and runtime advantages of the 'empty client' AJAX on VisualWebGui.com
Tagged:
Visual WebGui is an innovative framework for developing data intensive web applications based on its revolutionary 'empty client' platform.
The VWG framework empowers developers to build & deploy AJAX / Silverlight applications atop its platform using WinForms desktop methodologies and still allowing full flexibility, scalability, performance, security or complexity.
While conventional AJAX requires developers to program using a number of different client-side and server-side languages in multi level architecture, the 'empty client' platform enables the use of a single model with one layer. This allows developers to focus on what they want to achieve rather than on how to do so.
The reason is because the 'empty client' approach could supply well known desktop methodologies for web development. This leads to a much simpler design patterns and lets developers design highly interactive, data rich applications with basically the same productivity of designing desktop applications by dragging and dropping controls.
In addition, it is possible to provide pre-defined application blocks with the 'empty client' approach as most of the processing is done on the server. This drives up even more the efficiency and productivity of developing AJAX and enables the customization and extension of .NET components.
Tagged:
After two years of development, the first serious contender to challenge Ruby on Rails in the area of Ruby web application frameworks has reached 1.0 status: Merb. Created by Ezra Zugmuntowicz, Merb is built to be lightweight, less monolithic than Rails--i.e., you have your own choice of ORM, JavaScript, and templating frameworks--as well as thread-safe (which Rails, prior to the upcoming version 2.2 at least, was not).
You can get the gem from RubyForge with (something like) the following :

$ sudo gem install merb --include-dependencies

(Alternative site: —source http://edge.merbivore.com)
You can then generate your first Merb project and run it with the following:

$ merb-gen app my_application
$ cd my_application
$ merb

Then, of course, you'll want to read the documentation.
Tagged:


JS Strict Data Types Beta version 1.1 has just been released. The new release fixes various bugs that where found in the initial release. The biggest fix was one that caused the string and integer data types to not be kept correctly in certain situations.
Any code that you may have written using the library should work with no code changes. So, we recommend that anybody using the initial release start using this new release.
You can go to our Google Code page here.
You can download the new version here.
Tagged:
There may be times when you have a table that you want users to be able to sort. In some cases it will make sense to have the table sorted on the server side, however for smaller tables it may be useful to have a script sort it on the client. Well, over at the Leigeber Web Development Blog they have posted a nice small script that accomplishes just that.
below is an excerpt from the post.
This JavaScript table sorting script is easy to use, fast and lightweight at only 1.7KB. It includes alternate row formatting, header class toggling, auto data type recognition and selective column sorting. It will currently sort strings, numbers and currency. More features will follow.
You can read the full story here.
You can see a demo here.
You can download the source code here.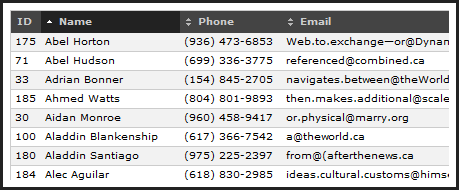 Tagged:
With devices like the iPhone and many of the new touch computer monitors we are using traditional keyboards less and less. Add this to the fact that when many people are on the go they use public computers with possible security threats like keyloggers. With these trends in computing you may look at putting a virtual keyboard in your web applications (where it makes sense). Well, over at Design Shack they have put together a nice example of this using jQuery (although you could take the same concept and use a different library).
Below is an excerpt from the post.
For those of us who travel often, we often end up accessing our emails and other confidential web accounts on public computers. In such circumstances, we are completely at the mercy of keyloggers and other malicious software that track our keystrokes and record our passwords.

Yet, very few websites provide their users with the option of using a virtual keyboard to key in (at the bare minimum) their passwords. Yes, a few banks do it, but considering how much personal information we store in various web applications these days, the safety of these accounts are of no less significance to us. This tutorial will explain how we can implement a simple virtual keyboard with some (well, okay, lots of!) help from jQuery.
You can read the full post here.
Google has announced the introduction of some powerful visualizations for your server-side data. They have publicly documented the Google Visualization API's open-wire protocol (you can go to the documentation here). The API has been greatly expanded from when it first launched and can now expose server-side data, such as SQL databases and even Excel spreadsheets, and display this data through visualizations from their growing directory.
Below is an excerpt from the post.
To make it even easier for developers to get started, we have documented an open-source Python library that enables any Python developer to quickly start using the API. What we find particularly cool about this library is that it also runs on Google's AppEngine. You don't even need to be an owner of your own servers to expose your data: You can place it on AppEngine and use the Visualization API to expose your data in meaningful, insightful ways in dashboards and reports. Expect to see additional server-side tools for the Visualization API in the near future.
You can read the full post here.