Blogs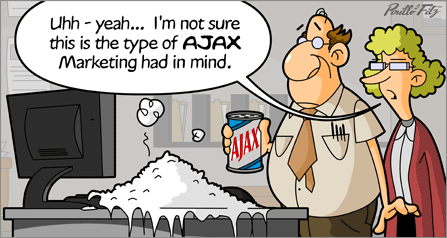 In all the excitement surrounding the Chrome release, a few people quickly noticed some disturbing language in the EULA agreement:
11.1 You retain copyright and any other rights that you already hold in Content that you submit, post or display on or through the Services.
As Matt Cutts of Google blogged, Google has now retracted that language from Chrome's EULA agreement.
You are now free to post blogs (including this one) without consulting Google's legal team. *Whew*.
Tagged:
Yesterday, the official Google blog broke the news that, yes, Google is indeed developing its own browser called Google Chrome. Much of the motivation and thinking behind this move is described interesting enough in an online comic strip.
Early news:
It is based on WebKit, the open source engine behind Safari
The browser runs with a JavaScript virtual machine codenamed "V8" that was developed from scratch by a team in Denmark
Each tab in the browser will represent a separate process, and will have its own controls and address bar
Google's Gears project will be bundled with the browser
The browser will have multiple tabs and an auto-complete address bar (like Firefox)
There will be a "privacy mode" where no traces of browsing history are left on the computer
Web applications can be launched in their own window (sans address bar, etc), an "RIA" feature
Built in protection from phishing and malware
According to the blog entry the beta version of Chrome should be available sometime today at this page, but as of this writing the URL just returns a "Page Not Found" (404).
Update: Chrome is now available at the above link.
The JRuby project, an implementation of the Ruby language on the JVM, has released version 1.1.4. Though a minor (maintenance) release, the new version introduces a number of improvements, including:
A substantially re-written Ruby-Java integration layer.
Big improvements in performance: about 2-20x.
Reduction of garbage collection cycles (efficient memory usage).
Experimental support for Ruby 1.9 (via the --1/9 flag)
Started support for the win32 API
Ported Rubinius' FFI subsystem for integrating with C libraries
Addition of OSGi metadata to the jruby.jar
Lots of bug fixes (72 issues resolved since version 1.1.3)
The full release notes are here.
You can download the new version here.
Tagged:
The Google Web Toolkit (GWT) project has released version 1.5 of its Java-based web development library yesterday. The new release sports a host of new features such as:
Support for Java 5 language features (generics, enums, enhanced for loops, and static imports)
Improved performance of compiled JavaScript code
It is now possible to sublcass the JavaScriptObject class, creating "class overlays" that can be mapped to arbitrary JavaScript classes
Expanded JRE emulation library
A new high-performance DOM API
Default visual themes: Standard, Chrome, and Dark
Support for right-to-left languages
For a full list of the new features, see here.
The new version can be downloaded here.
Tagged:
Here are a couple upcoming Ajax conferences for your consideration:


The Ajax Experience 2008
Location: Boston, MA
Dates: September 29th-October 1st, 2008
Cost: $1495
Site: www.theajaxexperience.com
Conference Agenda





AJAX World 2008
Location: San Jose, CA
Dates: October 20-22, 2008
Cost: $1,595 before August 29th [early bird]
$1,695 before September 12th [discounted]
$1,895 onsite price [full price]
Site: http://ajaxworld.com/
Conference Agenda
Leave a comment if you've been to either of these conferences before, letting us know what you thought. Also leave a comment if you plan on attending one or both conferences this year.
Tagged:
Firebug, the latest version of the indispensable debugging utility for Firefox, has released version 1.2 of the plugin for Firefox 3.0.
What's New?
Selective Panel Enablement: You can now choose to enable any combination of Console (logging), Script (JavaScript debugging) and Net (Network monitoring).
Automatic activation of HTML, CSS, and DOM views when Firebug UI is visible/activated (since they require minimal overhead).
Ability to suspend/resume Firebug.
A new tooltip telling you which tab/page in Firefox has enabled Firebug.
John Resig, creator of jQuery and now lead on the Firebug team, gives an excellent overview on his blog. Resig points out the currently rather global nature of enabling certain Firebug features, the overhead of enabling them (especially Script, which slows down all JavaScript running in Firefox about 25%), and states that all of these issues are targets for the 1.3 release.
Use the Add-ons panel in Firefox to update your plugin or get it now.
The release notes are here.
Tagged:
Mozilla plans to give some relief to web developers struggling to create a "desktop-like" experience for web applications: relief in the form of huge increases in speed. On Friday, the father of JavaScript, Brendan Eich, announced the launch of a new JIT (Just In Time) JavaScript compiler called TraceMonkey that will be included in Firefox 3.1.
Depending on the benchmark, TraceMonkey currently improves JavaScript performance in Firefox 3.1 by about 2 to 37 times over Firefox 3.0. The average performance improvement is predicted to be about 4.6 times faster.

TraceMonkey is an evolution of Mozilla's current JavaScript engine, SpiderMonkey, that also draws from the Adobe-contributed Tamarin Tracing project. It is based on the concept of tracing (or trace-based compilation), which takes the approach of monitoring bytecode interpretation, following frequently-executed backwards branches to a "loop start point", analyzing the linear sequence of instructions in what is called a "trace" (using data structures called Trace Trees), and natively compiling these code paths. This has the advantage over more traditional JIT compilers--that keep track of which methods get called most frequently, and do whole-method analysis and compilation--of having to analyze and natively compile only the performance-critical parts of the code. It also has the advantage of being more mobile-friendly as this translates to a much lighter memory footprint. Andreas Gal, the principal architect of the TraceMonkey project, discusses the technique in his blog.
According to Gal, Firefox now has the "fastest JavaScript engine in the world". So what can you do when your browser's JavaScript is that fast? How about online photo editing...
Tagged:
While CSS 3 does not yet have full browser support (currently Opera and Safari are leading the way with FireFox said to be adding support in version 3.1) you may want to look into CSS 3 now to get ready for it. Well, over at webmonkey.com they have put together a nice tutorial to get you started.
Below is an excerpt from the post.
Rounded Corners

The number one rule of Web 2.0: If it has rounded corners, it's modern.

Say what you will about the design aesthetics of rounded corners, at least with the new border-radius rules you won't have to resort to images and JavaScript to get that web 2.0 look.

Say you have some HTML that looks like this:

<p class="r-box">Try doing this without images</p>


Add this style definition to round off the element:

.r-box {
	background-color: #666; 
	color: #fff; 
	line-height: 20px; 
	width: 200px; 
	padding: 10px; 
	-webkit-border-radius: 10px; 
	-moz-border-radius: 10px;
}


Here's a live demo for those of you with Firefox or Safari:

Try doing this without images

If you're using a different browser here's a screenshot of how Safari displays the above block:



So what did we do? Well the first five lines are your normal CSS 2 declarations to give things a bit of style. It's the last two lines we're interested in. The actual CSS 3 declaration is border-radius. Until the specs are finalized the various browser manufacturers have enabled the features via prefixes -- the -moz- prefix is what Firefox uses and the -webkit- prefix is for Safari.

The rule works like this (where TopLeft, TopRight, etc... is a numeric value in pixels):

border-radius: TopLeft TopRight BottomRight BottomLeft;
border-radius: TopLeft BottomLeft+TopRight BottomRight;
border-radius: TopLeft+BottomRight TopRight+BottomLeft;
border-radius: ALL;


So in our case we used the later rule, but if you want just two rounded corners, you would do this:

-webkit-border-bottom-left-radius: 10px;
-webkit-border-top-right-radius: 10px;
-moz-border-radius-bottomleft: 10px;
-moz-border-radius-topright: 10px;


Note: as of this writing, the W3C is planning to move toward the syntax Mozilla uses, rather than that of Safari. Because the border-radius spec is not finalized, Opera chose not to support it in Opera 9.5.

The nice thing about border-radius is it degrades gracefully. If a browser doesn't understand it, it simply renders a square box.
You can read the full post here.
So, use this tutorial to get prepared for CSS 3 (if IE ever gets their act together) as it will really make your pages look very nice.
Tagged:


Announced this morning, TIBCO has released a new version (3.6.1) of its General Interface Ajax Framework. This release adds support for Firefox 3 and Safari 3.1.2+.
For more information on GI, check out this flashy product overview.