Blogs
Tagged:

Meteora is set of cross-browser Widgets and Controls that you can use to write rich web applications. Meteora is an Open Source project of Astrata Software. It's based on the MooTools framework (version 1.11) and is released under the MIT license.
With the recent 0.5 release, you'll find the following updates:
Picbox:

A control to display images in top of an overlay. It is smart enough to adapt itself to the screen size. [

demo

|

doc

]


Bubble:

Shows "idea bubbles" in any element. We are using it within the Form control as an user-friendly way to display input errors. [

demo

|

doc

]
You have probably heard quite a bit about FriendFeed. The service creates a feed of your activity on multiple social networks so you can share it with friends. Today they have released an API for the service so you can start creating some cool mash-ups using the service.

The API offers PHP and Python libraries (unfortunately, if you are using Ruby or Java there are no provided libraries yet) and allows you to receive data in JSON, XML (a simple form of XML), RSS and Atom formats.
You can get more information about the API here. Also, Read Write Web has written a very good post about the API and you can read it here [they have some great articles, check out their post on ourTubeSpy application :-) ].
The API will possibly make some very interesting mash-ups. I'm thinking about using it for the next application for Ajaxonomy Labs (more on that in the near future). I'd love to hear your thoughts on the API and the FriendFeed service (as always, you can leave them in the comments or you can write a blog post about it on this blog with your free Ajaxonomy account).
Tagged:
Dynamic Drive has posted a jQuery-based Step Carousel script that enables you to display images or rich HTML by side scrolling them left or right. Besides supporting sequential scrolling, it also has the capability to jump to any scroll item or scroll x items at a time. The script has two public methods, two custom event handlers, and three "status" variables to provide more control. It's also able to handle content defined directly inline on the page or loaded dynamically with Ajax. Content is simply contained in DIVs with a common CSS class. For implementation details, visit Dynamic Drive.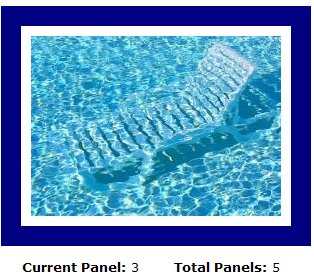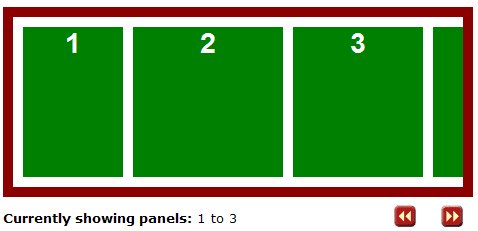 Visit the Step Carousel Homepage for more information, demos, and to download the script.
If you're interested in learning more about Ajax development, distributed systems, web security, or C++/Java/Python and you haven't checked out Google Code University, you're missing out on a valuable educational resource on these topics and more.
Here's a sample video from the site:
Web 2.0 - AJAX - Creating a Rich User Experience
Description: Incorporated AJAX is enabling the creation of applications with better functionality, usability, and an overall better user experience. This panel will discuss how desktop-like applications can be delivered via the browser with Ajax, the efficiency of developing such applications, and the importance of the GUI. They will also share their thoughts on highly successful applications and the shortcomings of using Ajax.
Also on the site, you'll find a series of Web Programming lecture slides provided by the University of Washington.


For these and other great resources, visit the Google Code University


Tagged:
Nathan White has developed an image cropping library called MooCrop, built with the MooTools JavaScript framework. MooCrop can be combined with a server side script to provide image manipulation functionality in your apps. The library weighs in just under 11K and totals for about 35K when you add in the YUI compressed MooTools framework.
Resize the crop area below and double-click it to see the result on the right:

Here are some features of the MooCrop class as described on its homepage:
Completely customizable CSS styling
Detects and handles multiple CSS box models
Allows for masking to be toggled
Ability to hide resize handles during drag
Custom events for your own modification
Relative based postioning rather then absolute (should handle overflow properly)
Works and retains layouts on floating images.
Resize from 8 different directions
Ability to set minimium size limit
Cleans up nicely, leaving your DOM in its original state when removed.
Fast!
Visit the MooCrop homepage for more demos, information, and downloads
If you are a developer using the Yahoo! User Interfaces then you are always looking for good resources for learning more about coding with the library. You've probably already gone through a lot of the information on the Yahoo! Developer pages and perhaps you would like a good book about the library. Well, I have come across a book called Learning the Yahoo! User Interface Library.

Below is what you will learn from the book

Explore the YUI Library—utilities, controls, core files, and CSS tools
Install the library and get up and running with it
Handle DOM manipulation and scripting
Get inside Event Handling with YUI
Create consistent web pages using YUI CSS tools
Work with Containers—implementation, skinning, adding transitions, and tabs
Debug, maintain, and update applications with the Logger control
Examples included in the book:

Calendar interface
Autocomplete
Creating panels
Dialogs
Custom tooltips
Forms
Split button
TreeView Control
Browser History Manager with Calendar
Simple animation
Custom animation
Creating tabs and adding content dynamically
Dragging and dropping
Implementing sliders
Logger at work
Logging custom classes
The book retails for $44.99 and below is the information that you would need to pick it up at your local book store.
Language: English
Paperback: 380 pages [191mm x 235mm]
Release date: March 2008
ISBN: 1847192327
ISBN: 13 978-1-847192-32-5
Author(s): Dan Wellman
Topics and Technologies: Open Source, AJAX
You can read more about the book and purchase it here.
It is good to see more resources for great libraries like the YUI. If you have a chance to read the book, I'd love to hear your thoughts on it (you can leave a comment or blog about it on this blog using your free Ajaxonomy account).
Over at cnet's News.com they have reported the John Lilly the CEO of Mozilla has criticized Apple's auto-update practices.
Below is an excerpt from the post.
In a blog on Friday, Mozilla CEO John Lilly criticized Apple's practice, uncovered this week, of offering iTunes and QuickTime users Safari 3.1 on Windows through the Apple Software Update pop-up.

Lilly says that automatic updates are a good way to ensure people have the most recent and secure versions of software. It's a practice that Mozilla uses with the Firefox browser.

What's different in what Apple is doing is that it is adding a product to the auto-update list that users never requested. That means they could very easily install software unintentionally, he argued:

Apple has made it incredibly easy--the default, even--for users to install ride along software that they didn't ask for, and maybe didn't want. This is wrong, and borders on malware distribution practices.

It's wrong because it undermines the trust that we're all trying to build with users. Because it means that an update isn't just an update, but is maybe something more. Because it ultimately undermines the safety of users on the Web by eroding that relationship. It's a bad practice and should stop.
You can read the full post here.
I would love to hear your thoughts on this practice (You can leave them in the comments or write a post about it on this blog using your free Ajaxonomy account).
Tagged:
The Google Chart API is a great API for building applications that represent data in a simple chart. Well, there are a few new features to the API.
Below is a rundown of the new features.
You can now create Sparklines

You can now create Radar Charts

Now you can create Map Charts

They added scaling for text encoded data
They added support for negative numbers on bar charts
They added ability to draw data lines on bar charts
As with everything in the Google Chart API you simply pass values in the URL. To create a Sparkline you would pass in &cht=ls. If you want to create a Radar Chart you would pass in &cht=r or &cht=rs. In order to create a Map Chart you would pass in &cht=t.
You can get more information about the new features in the API here.
These new features make the API even more useful. I can see some good uses for these new features in future applications that I make.
You may remember that not that long ago we released the del.icio.us Spy Widget. Well, after the initial release I started looking into Widgetbox to extend the capabilities of the widget.

Widgetbox allows you to create or extend widgets that are Flash based, HTML/JavaScript, A Web Page, Blog/Feed or a Google Gadget. Creating a widget is easy, you just click on Make a Widget, then choose the type of content that you want made into a widget and you finally fill out the information in the forms to create your widget. Your widget can also be made to add to social networks like Facebook and MySpace (only Flash widgets can be put on MySpace) using a very simple wizard like process to setup the widget for these networks.
Widgetbox allows you to track subscriptions and hits of your widget. This tracking can help you easily see if your widget is gaining traction or if nobody cares about it. The service also has a directory that has a social feel (with it's user ratings and helping you find related widgets) and helps your widget gain in popularity due to it's viral features.
Below you can see the del.icio.us Spy Widget after using Widgetbox (If you are viewing this in a feed reader you will probably need to click on the del.icio.us Spy link to view the widget in a browser).
Widgetbox is a great tool for any developer wanting to make cool widgets that can easily be shared all over the web. Perhaps I should make a widget of the Ajaxonomy blog next. If you have used Widgetbox, I would love to hear about your experience (as usual, you can leave it in the comments or if you would like you can write a post on this blog using your free Ajaxonomy account).
You might have caught on to the fact that we here at Ajaxonomy appreciate the spy game. We are happy to announce a Beta version of TubeSpy, the latest addition to Ajaxonomy Labs. TubeSpy is a web based spy that allows you to see what videos are being watched on YouTube right now. YouTube has a widget like this on their homepage and TubeSpy was an effort to turn that widget into an app.
TubeSpy was built with jQuery, a fantastic JavaScript framework, the jQuery UI library for the tab controls, and of course, the YouTube API. Tested in IE6, IE7, and Firefox 2.

With TubeSpy you can:
see what others are watching
watch videos without leaving the page you're on
save videos as you see them scrolling
easily watch related videos
and more...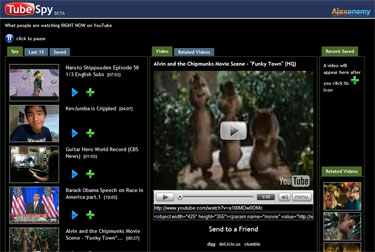 The more you use TubeSpy, the more interesting it becomes. Watching as videos scroll by creates a small, constantly shifting, window into the world. Visit TubeSpy after news breaks in the political world and you'll find some political videos, check it out after your favorite reality show airs for clips people have posted.
We hope you enjoy using the app and find some value in it. Feel free to post any feedback in the comments. Do keep in mind that this is a Beta release, and calling it a Beta release is a CYA (Cover Your Apps) measure to have an excuse in case a bug pops up in the app.