Blogs
It's Friday and everyone wishes it was Saturday. Wouldn't it be great to get a jump start on your weekend video game playing. Well, while surfing the web I found a great Doom clone written in Flash (so you can play it once the boss leaves early on Friday, but I wasn't the one that said that). The game is an exact clone of the 90's classic and is still a lot of fun to play.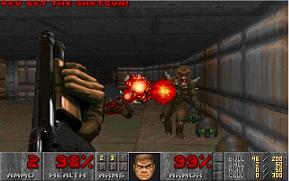 You can play the game here.
Update: I had the wrong link above (it took you to a link to the game), here is the direct link.
Tagged:
Torq Software decided to allow web access to the internal systems so that they can be accessed by more field agents and clients via the internet with a manageable impact on the processor and bandwidth usage footprint.
The team chose Visual WebGui Rich Internet Applications Platform and soon enough discovered how easy it was to start developing Visual WebGui screens due to the fact that it uses the same GUI designer technology that was already used to develop the Windows Forms version of the application.
It was relatively easy to develop the screens for the application as the existing Windows Forms UI was used as a guide. Even though Visual WebGui was still in a beta form, the overall development was simple and quicker than expected. "Not having to learn ASP.NET in its entirety meant that we could leverage our existing knowledge for most part to produce an effective application" Said Apolon Ivankovic. Deployment turned out to be relatively easy as well and only required the team to learn the basics of IIS deployment.
To read the entire showcase click on the following link:
Debt Collection Management System Web UI developed in less than a month
Tagged:
You may have read my posts on Having Fun with Pligg. In the series of posts I have been talking about setting up a Pligg site using Pligg 1.0.0 RC2. Well, Pligg 1.0.0 RC3 has been released and this will be the final release candidate, so you may want to upgrade your Pligg instance.
Below is an excerpt from the announcement.
Our final version of the release candidate line for Pligg, Pligg 1.0.0 RC3, is available for download now. This version introduces a new admin category page (seen below) and a number of bug fixes including better support for Search Engine Optimized (SEO) URLs and foreign languages. We are only a couple weeks away from a final version of Pligg, which we expect will be picked up by a lot of web hosts and template providers.
You can read more about Pligg 1.0.0 RC3 (including a link to the download) here.
Tagged:
Explorer Canvas, otherwise known as the little JavaScript library that allows you to use VML while still coding in HTML 5 Canvas (thank heaven), has released the third version of the library. The major reason for the release is compatibility with Internet Explorer 8, but there are numerous other bug fixes and improvements in the release. A comprehensive list of changes is here.
You can download the new release here.
Tagged:
A new Visual WebGui RIA Platform showcase is published:
A Linux (Mono) Web based OS Deployment tool completed in just 2 weeks
The company needed to develop a solution which would operate as an OS Deployment tool that is customized for the needs of their Datacenter according the specific design parameters given.
The team decided not to use PHP but to use Mono (mod_mono) with Visual WebGui because of the short timeframe they had for deploying the solution and since Visual WebGui provided the easiest and quickest graphical development possible.
The web development process was straight forward. While the final goal was well defined, some of the concepts and functions were being defined while coding the solution. The Visual WebGui unique approach enabling easy integration of UserControls and intuitive graphical development allowed for this unstructured development cycle which led to an extremely shortened process as stated by Axel Westerhold: "Because of the easy graphical development environment and the integration into Visual Studio we were able to roll out the product within 2 weeks."
Tagged:
One of the most interesting new languages to emerge recently is Clojure, a dialect of LISP (a very old language) that runs on the JVM and contains an implementation of software transactional memory (STM) in the core of the language itself.
Hot off the presses (Rich Hickey hasn't even blogged about it yet) is a new release for 2009-03-20. Contained in the download zip are the release notes with all of the bug fixes since the previous release in December of last year.
Anyone who hasn't explored Clojure (or who thinks that LISP is when someone talks funny) should definitely check out Rich Hickey's screencasts over at blip.tv.
Microsoft has officially released Internet Explorer 8. New features in this release include:
Native support for JSON
Improved standards support
Faster than IE 7
Improved developer tools, including (finally) an integrated JavaScript debugger
The address bar also functions as a search bar, a la Google Chrome
Accelerators: mini-mashups for your browser
Web slices allows you to retrieve information from a web page without actively visiting it.
Private browsing, similar to Firefox and Chrome
The SmartScreen Filter, which helps to protect against malware, phishing, and cross-site scripting.
On the downside IE 8 is the only current browser that fails the Acid 3 test. It is also one of the slowest browsers out there.
Previous coverage on IE 8:
You can download it here, or wait for it to become available via the Windows Update service.
Tagged:
Gizmox released its Visual WebGui RIA Platform version 6.3.5. This version is an additional step towards a stable 6.3.x which is expected to be released in the next couple of weeks.
This is the change log for version 6.3.5
Bugs fix
----------------------------------------------------------------------------------------------
VWG-4152 - TableLayoutPanel clip right side of added controls that reach it's right edge.
VWG-3838 - SplitContainer should retain it's SplitterDistance when form saved.
VWG-4153 - Form with MainMenu, ToolBar and TabControl in FF hides the menu and toolbar when switching tabs.
All 6.3.5 downloads can be found here.
Professional Studio can be downloaded directly from here.
Tagged:
The Rails team has released version 2.3 of its popular and ground-breaking web application framework for Ruby.
Features:
Support for Ruby 1.9.1. Caveat: not all the data adapters and plug-ins have moved to Ruby 1.9 yet, so migrator beware.
Templates: customize your default Rails skeleton with your favorite set of plug-ins, gems, initializers, etc.
Full Rack integration. CGI is now a thing of the (proxied) past.
ActiveRecord gets support for nested attributes, nested transactions, batch processing (find_in_batches), dynamic scopes, and more.
Action Controller gets smarter rendering, a file rename (application.rb to application_controller.rb), HTTP Digest Authentication Support, more efficient routing, and more.
Introduced Rails Metal, a way of bypassing the controller for speed (it is a subset of Rack middleware).
Renewed support for Rails Engines allows the sharing of re-usable application components.
Support for nested forms.
A full list of all the changes in 2.3.2 (the final version of 2.3) is here.
As usual, you can install via Gems: gem install rails
Google has released the 2.0 beta version of its Webkit-based browser, Chrome. The new release features:
25-35% faster JavaScript performance for Google's V8 engine
Form autofill
Bookmark sorting
Autoscrolling
Full-screen mode
A new way to drag tabs in order to get a "side by side" view
Mouse gestures for resizing windows
Limited Greasemonkey support
Like its cousin Safari, the new Chrome browser should also be Acid 3 compliant since it is built using a much more recent version of Webkit (Chrome 1.x is not). You can download the new beta here.
UPDATE: Actually, Chrome 2 (build 2.0.169.1) scores 98/100 on Acid 3. Close, but not yet.