David Hurth's blog
Tagged:
I was playing around with the social networking CMS AroundMe this weekend and this got me thinking of what will the next big social network be. It has been a bit of time since we have seen any really huge social networks pop up and I am wondering what kind of social network would make it big. Lately most of the news has been about aggregation services like FriendFeed or our own BuddyBlend, but I haven't seen much in the new social network space.
As I see it nothing will probably happen in the spaces that huge services already have a strong hold, such as the video space and social bookmarking space. While we will see many new challengers, I don't see anybody beating a site like YouTube any time soon. So, I think that if a new social network is to gain a strong hold it will be in a space where there is no clear leader currently.
Below are the spaces that I think that there is a chance for a new social network to dominate.
Video Game Space
While there are currently a few Video Game social networks, there is not yet a MySpace for gamers. I think that in order for a site to clearly win this space they will need to provide on-line games, a space for gamers to talk about their favorite games and a place schedule on-line games.
Music Space
While there are a few sites that are in this space, with last.fm leading the pack, I'm not sure that there is a clear winner in this space. The tough thing in the Music Space is the copyright information if you share music. What I think needs to happen for someone to dominate this space is they need to make a deal with the record labels like iTunes has where perhaps I can listen and share music for free on the site, but if I want to download it to my iPod I need to pay a very small fee.
Athletics Space
I haven't seen many good sites in this space, but think that with so many sports fans that this could be a huge space if done well. Just think of the amount of people in this audience all over the world!
Collectible Space
This would be a place where people who collect items, whether they be baseball cards or cars, could connect with people that have the same interests. I haven't seen any social networks in this space, probably because of ebay, but I think there could be a large social network in this space.
Outdoor Activities Space
I haven't seen many sites in this space, but with so many people enjoying outdoor activities, this could be a huge social network. Just think of a social network where you can share and find your favorite camping sites or places to go rafting.
This is just a small list of possible spaces where the next great social network will exist. I would love to hear your thoughts on the space where the next great social network will exist.
General Interface (GI) 3.6.0 has been released. This new version promises JSON data mapping (a very good thing as JSON is being highly used by Web 2.0 sites) and template custom control among other things.
Below are some of the key features highlighted on the GI website.
Make Richer Ajax Applications. Faster.

TIBCO General Interface™ 3.6.0
Professional Edition

• 100+ ready made Ajax controls

• Unparalleled visual tools

• Extensive docs


• Open source BSD licensed




General Interface 3.6.0 brings you:

• Template custom control

• CDF form mapping

• JSON data mapping and JSONP protocol support
One of the main issues that I have had with GI in the past is that it is very heavy on the front end load. Tibco has addressed this issue by allowing you to use different deployment types that allow you to fine tune what is loaded. This really helps the performance and makes the possible use of GI on public facing sites closer to a reality (there are still some browser compatibility issues that will keep the tool from major adoption on public facing sites).
You can learn more about GI (including downloading of the application) here.
The new version of GI is a good tool for developing Ajax applications for internal corporation use. While it is getting closer to possibly being useful in public facing applications, there is still some work to be done before I can see this happening.
Six Revisions has put together a great list of Flash and ActionScript resources. Since Flash is used throughout the web for animation and with ActionScript you can do some pretty nice programming to go with the animation it is nice to have some good resources.
You can read an excerpt from the post below.
ActionScript.org is a site that provides resources and information pertaining to Flash, Flex, and ActionScript. They have a fairly active Forums section as well as an ActionScript Library that currently has over 700 objects you can download.

Tutorial examples:

Flash and Math has a great collection of tutorials on AS3. They cover basic to advanced topics so that Flash developers of any level can find something they can read and learn from. Many of the tutorials include the source files for download.

Tutorial examples:

Pixel2Life, according to the site, is the "largest tutorial index catering to graphic designers, webmasters and programmers". With over 40,000 indexed tutorials, you'll find many links to tutorials in their Flash Tutorials section.

Indexed tutorial examples:

Flash Perfection is a website with a large collection of Flash tutorials, tips, and tricks from various websites. Flash Perfection has 23 categories to help you find information more quickly.

Indexed tutorial examples:
You can read the full post here.
With the major use of Flash for animation on the web this resource will help many web developers.
Tagged:
A very useful design element on the modern web is the accordion element. With this useful design element you can never have enough accordion scripts to use. Well, WebTecker has put together a nice list of accordion scripts.
Below is an excerpt from the post.
You can read the full list here.
This is a great list and many of these scripts could be useful if you want a different accordion script.
Tagged:
Google has announced that they have added more real-time market data to Google Finance. This is great news for any user of Google Finance.
Below is an excerpt from the Google post announcing the change.
We're excited to let you know we're adding more real-time market data to Google Finance, Google.com and other Google properties. Starting today, you'll have access to real-time, last sale prices from the New York Stock Exchange (NYSE), along with those from NASDAQ, which we recently launched. Here's the NYSE press release.

What this means is that you can now get the latest real-time stock quotes on Google for free. Wondering what Ford (F) is trading at today? Search for it on Google or Google Finance and keep the page up to have the quotes stream live.

If you use iGoogle, add the Google Finance portfolio gadget to your homepage, and monitor all your NYSE and NASDAQ traded stocks in real time throughout the day.
You can read the full post here.
Google Finance is a very useful app to anybody following the stock market and anything that makes this app more useful is great.
Today is the official launch date for Mozilla's Firefox 3! The new version of the browser promises quite a few new features include performance improvements.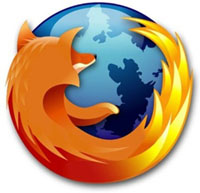 Below is an excerpt of a few new features.
Improved Platform for Developers

New graphics and font handling: new graphics and text rendering
architectures in Gecko 1.9 provides rendering improvements in CSS, SVG as well
as improved display of fonts with ligatures and complex scripts.
Color management: (set gfx.color_management.enabled on in
about:config and restart the browser to enable.) Firefox can now adjust images
with embedded color profiles.
Offline support: enables web applications to provide offline
functionality (website authors must add support for offline browsing to their
site for this feature to be available to users).

Improved Performance

Speed: improvements to our JavaScript engine as well as profile guided
optimizations have resulted in continued improvements in performance.
Compared to Firefox 2, web applications like Google Mail and Zoho Office
run twice as fast in Firefox 3, and the popular
SunSpider test from Apple shows improvements over previous releases.
Memory usage: Several new technologies work together to reduce the amount
of memory used by Firefox 3 over a web browsing session.
Memory cycles are broken and collected by an automated cycle collector, a new
memory allocator reduces fragmentation, hundreds of leaks have been fixed, and
caching strategies have been tuned.
Reliability: A user's bookmarks, history, cookies, and preferences
are now stored in a transactionally secure database format which will prevent
data loss even if their system crashes.
You can read all about the new features here.
I am just waiting until I can download the software (should be any moment) and I'd love to hear if you plan on downloading Firefox 3 or if you prefer a different browser.
Digg Spy is the real time tracker that shows what is happening on the social network Digg as it happens. The tool is a great way to follow Digg in a different way than the normal view.
We at Ajaxonomy.com have written a tool called the Digg Bury Recorder that uses a feed from Digg Spy to capture all of the buries of stories that are recorded by Digg Spy. Recently it was brought to my attention that the Digg Bury Recorder does not seem to be recorder new buries. In looking into the issue I found that the feed is not returning any data.
Thinking that perhaps Digg changed the feed (they have done this before) I went over to Digg Spy to check if the feed that is being used and the feed that we are using is correct. However, after leaving Digg Spy up for a moment I quickly realized that the Ajax portion of Digg Spy does not appear to be working (go to the page and it will look like it is working, but once it gets past the pre-loaded information it no longer works).
Without the Ajax portion of Digg Spy the application is useless and I wonder if I wonder if Digg knows of the problem or if they purposely broke the application (perhaps in an attempt to stop applications like the Digg Bury Recorder, although this doesn't really make sense).
Tagged:
If you are a regular reader of this blog (and I hope that you are or are becoming one) you have probably noticed that I haven't posted anything for about a week. Well, the reason for this is that my wife and I have been blessed with our first child (Thomas Richard Hurth).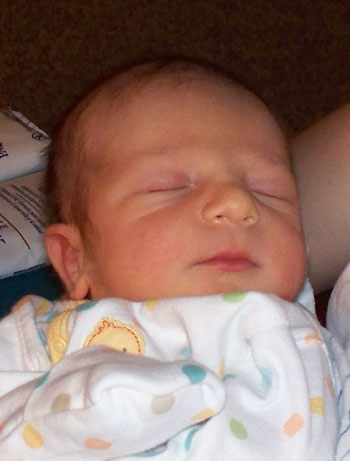 In the process of waiting for labor, my job was to time the contractions. In having this important task I found a web application that makes the job much easier called Contraction Master.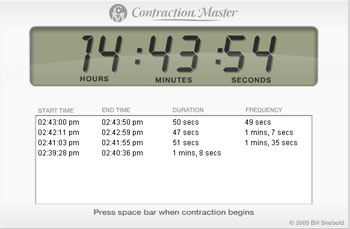 Contraction Master is very easy to use, you simply click on Start Timing Contractions and then you hit the space bar at the start and end of each contraction. The application keeps a log for you so you know when to go to the hospital.
You can get to the Contraction Master here.
I hope that anybody that may be expecting a child will find this application useful and I would love to hear your experience with it.
If you are working on a project you probably want to have a quick mock-up so the business can easily understand how a web application will look. Well, Yahoo! has just made it easier to do so with their new Design Stencil Kit.
Stencils kits are available for OmniGraffle, Visio (XML), Adobe Illustrator (PDF and SVG), and Adobe Photoshop (PNG) and cover the following topics:

Ad Units
Calendars
Carousels
Charts and Tables
UI Controls
Form Elements
Grids
Menus and Buttons
Mobile - General
Mobile - iPhone
Navigation and Pagination
OS Elements
Placeholder Text
Screen Resolutions
Tabs
Windows and Containers

To use a design stencil, download the stencil kit compatible with your design application, launch your design application, and start adding stencil objects to your projects. Adobe Illustrator, OmniGraffle, and Visio users can ungroup stencil objects to customize and manipulate size, layout, and aesthetics.
You can read more about the stencil kit here.
You can go directly to the stencil kits here.
So, get the Design Stencil Kit and show the business what you are working on. Or even better, get your favorite Business Analyst to do it for you.
Google recently released Google Health. The application makes it easy for users to keep track of their medical records. Along with releasing Google Health they have also released the Google Health Data API.
Below is an excerpt about the Google Health Data API.
The Google Health Data API allows client applications to view and send Health content in the form of Google Data API feeds. Your client application can use the Health Data API to create new medical records, request a list of medical records and query for medical records that match particular criteria.

Here are some of the things you can do with the Health Data API:

Upload patient medical records.
Get patient medical data and provide personalized functionality based on that data.

How do I start?

If you're new to the Google Health Data API, here's how we recommend you get started:
You can learn more about Google's Health Data API here.
I can see a lot of uses of this API for medical related mash-ups.