Mark Gharibian's blog
Tagged:
Bedrich Rios at NETTUTS.com has put together a tutorial for creating keypress navigation using the jQuery JavaScript library. A keypress navigation, if implemented well, can increase usability of your web applications and sites. Basically, you create a way for users to navigate through your site [or part of it] without the use of their mouse. This has long been possible/common with rich desktop applications, but usually isn't implemented in many of today's web applications.
Bedrich's 8 step tutorial will have you creating keypress navigations in no time. Check out the demo if you want to get a taste. For the 8 course meal, visit How to Create A Keypress Navigation Using jQuery
With the recent addition of 10 languages to the Google AJAX Language API, we have published an update to TubeSpy that includes support for Bulgarian, Croatian, Czech, Danish, Finnish, Hindi, Norwegian, Polish, Romanian and Swedish.
TubeSpy, a recent addition to Ajaxonomy Labs, is a YouTube Spy allowing you to see what videos others are watching on YouTube right now! TubeSpy was built using jQuery, the YouTube API, and more recently, the Google AJAX Language API to add support for other languages.
Tagged:
Dynamic Drive has posted a new color picker widget built with the YUI JavaScript toolkit. This widget can be integrated in a form field to provide an inline or floating color picker. A control can also be assigned the color picker, activated with a click, with an option to set the control's background color based on the value chosen in the color picker widget. Since each color picker is defined as an empty DIV on the page, you can surround it with content and style it as you like. This new implementation also supports multiple instances of the color picker on the same page. So, two form elements can have two separate color pickers, as opposed to having one picker shared by all elements.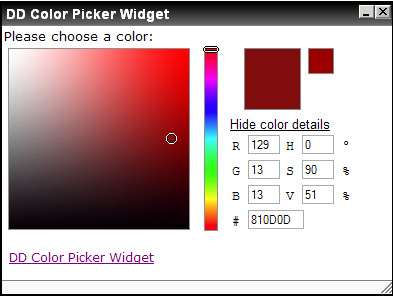 Visit Dynamic Drive for the script, demos, and installation instructions.
Ryan Dewsbury has built a multiplayer GWT based Pictionary game called XSketch.

He is the creator of GPokr and KDice. XSketch is pretty fun and straightforward game. One player is shown a word he needs to illustrate. While he's drawing, the other players try to guess that word. The sketcher and correct guesser are awarded points only when the word is guessed correctly. However, only the sketcher loses points when no correct answer is guessed. The role of sketcher moves around the table so each player has the opportunity to draw.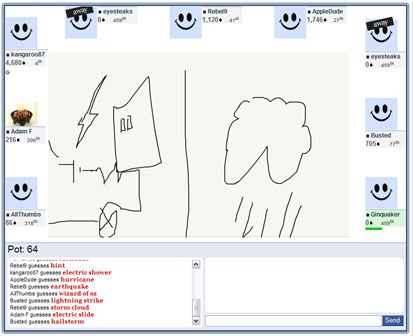 TubeSpy, our YouTube application from Ajaxonomy Labs, now supports 11 new languages. By utilizing the Google Language API, TubeSpy is now able to dynamically change the language used in the application.
Languages now supported by TubeSpy include: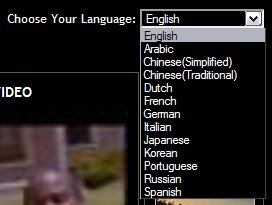 English
Arabic
Chinese
Dutch
French
German
Italian
Japanese
Korean
Portuguese
Russian
Spanish
Here's a sample in Russian: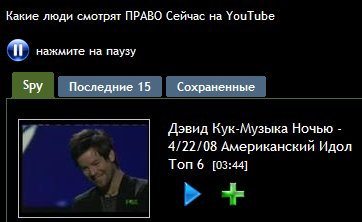 The app is still in beta, so be aware there may be some layout/formatting issues with the additional languages. In any case, please send us your comments, bugs, and feature requests.
Tagged:

Google's User Experience (UX) group has put together a list of 10 [high level] design principles that encompass what they call a "Googley" design. These principles represent their User Experience group's declaration of beliefs.
For your consideration, here are the ten principles:
1. Focus on people—their lives, their work, their dreams.
2. Every millisecond counts.
3. Simplicity is powerful.
4. Engage beginners and attract experts.
5. Dare to innovate.
6. Design for the world.
7. Plan for today's and tomorrow's business.
8. Delight the eye without distracting the mind.
9. Be worthy of people's trust.
10. Add a human touch.
For details on each principle, visit the Design Principles page on Google's corporate site.
Announced today at the Yahoo! Developer Network, YSlow 0.9.5 beta 1 has been released to address issues with Firefox and Firebug Compatibility.
In this release, you'll find:
Firefox 3 beta 5 support
Support for the latest versions of the different Firebug branches
Pie chart representation of the components in the Stats tab
Improved display in the expanded CSS expressions rule report in the Performance tab
Support for disabled Firebug Net Panel (default behavior in Firebug 1.2)
Misc fixes for the reports in the Tools section
You can download the tool here, report bugs here, read the performance rules, and participate in the performance mailing list discussions.
If you haven't heard of it before and are wondering what it does, YSlow analyzes web page performance and tells you why performance is slow. It's integrated into Firefox as a plug-in for Firebug. You can learn more about YSlow by reading the user guide.
Tagged:

John Resig has just created JavaScript Ninja Jobs, a site dedicated to JavaScript Jobs. Currently, it's free to post and to apply for jobs on the site.
Some example jobs include:
Ajax Developer
User Experience Developer
Senior-level Web Developer
jQuery Plugin Developer
Rails Developer
Front-End Software Engineer
Check out these and other jobs at jobs.jsninja.com
There's also a Jobs RSS feed to keep you updated on the newest job postings.
Tagged:


Via Kevin Hakman at the Aptana Blog, Jaxer 0.9.5 is now available with more horsepower and extra bells and whistles.
Download the latest version here
Expect performance gains to due Jaxer's core now being based on Firefox 3 and because Jaxer now pre-parses scripts to bytecode. Bells and whistles include more natural window/document objects on the server side, no more inlined external scripts, and a new autoload feature that caches scripts so they don't have be loaded on demand.
Tagged:

Meteora is set of cross-browser Widgets and Controls that you can use to write rich web applications. Meteora is an Open Source project of Astrata Software. It's based on the MooTools framework (version 1.11) and is released under the MIT license.
With the recent 0.5 release, you'll find the following updates:
Picbox:

A control to display images in top of an overlay. It is smart enough to adapt itself to the screen size. [

demo

|

doc

]


Bubble:

Shows "idea bubbles" in any element. We are using it within the Form control as an user-friendly way to display input errors. [

demo

|

doc

]