Mark Gharibian's blog
Version 0.96 of AjaxMGraph, an Ajax based graphing library built on the Prototype JavaScript framework, was released today and is available for download.
Updates in this new release:
* Added Option to draw two or more graphs
* Code modified to be more user friendly, and up to date with modern standards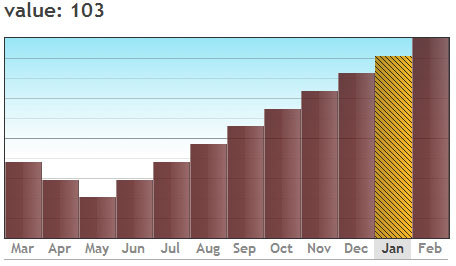 * Download (zip, 14KB)
Tagged: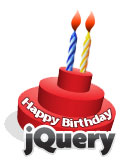 In case you haven't heard, today is the 2nd birthday of jQuery. Stop on over at the blog of John Resig, creator of jQuery, to read about how jQuery made it to prime time.
To celebrate this event, a new release of jQuery is out - version 1.2.2 - which is primarily a bug fix release (contains over 122 bug fixes). Not to mention, some 300% speed improvements to $(DOMElement):
| Browser | 1.2.1 (ms) | 1.2.2 (ms) |
| --- | --- | --- |
| Firefox 2 | 0.041 | 0.015 |
| Firefox 3 | 0.033 | 0.01 |
| Safari 3 | 0.017 | 0.005 |
| Opera 9 | 0.023 | 0.004 |
| Internet Explorer 6 | 0.04 | 0.03 |
Read more about this release on the full announcement.
Tagged:
Snipplr is a public source code repository that gives you a place to store and organize all the little pieces of code that you use each day and It lets you share your code snippets with other coders and designers.

Snipplr was designed by Sitening, a Nashville Web Design company originally to store their code snippets in one place. They currently have around 3605 snippets in the following categories:
* ActionScript
* ActionScript 3
* Apache
* AppleScript
* ASP
* Assembler
* Bash
* C#
* C++
* Cold Fusion
* CSS
* Diff
* Emacs Lisp
* eZ Publish
* Forth
* Fortran
* Groovy
* HTML
* Java
* JavaScript
* Lisp
* Lua
* MatLab
* NewtonScript
* Objective C
* Open Firmware
* Other
* Pascal
* Perl
* PHP
* PicBasic
* Python
* Rails
* Regular Expression
* Ruby
* SmallTalk
* Smarty
* SML
* SQL
* SVN
* TCL
* TYPO3
* VB.NET
* VHDL
* Visual Basic
* W-Language
* XML
Click here to visit to the Snipplr code repository and let us know what you think.
You may be familiar with the Acid 2 Browser Test, but the news is that an Acid 3 test in the works. Announced earlier today on John Resig's blog, a new Acid test is being created and a pre-pre-pre-alpha development version is available here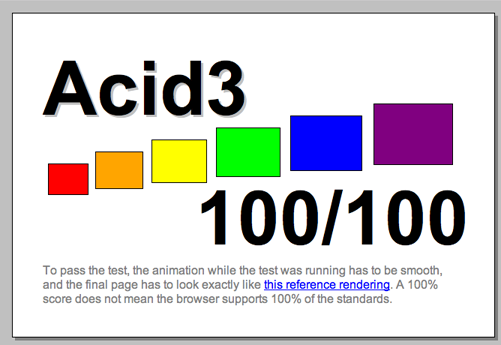 Here's an excerpt from John's post:
Traditionally, the Acid test has served as a way to get browser vendors in line by testing them on really-annoying edge cases. This can, sometimes, get people tied up in knots but it actually serves as a devious way of getting people to meet a large part of a spec.

For example, in order for a browser to have some weird padding/margin test case solved - in CSS - they must also have a working box model. So while an Acid test may not, explicitly, test for a working box model, it will be done implicitly (by testing edge cases that result from it).

With that in mind, it's time to take a look at Acid 3 which primarily focuses on technology that I find to be interesting: ECMAScript and the DOM.
Go read the full post for more information and to see just how badly the major browsers perfom on the test!
I went ahead and submitted the Acid 3 test url to browsershots.org and ran it through a few different browsers/operating systems, you can check the results here.
Tagged:
"Yes Virginia, there is an Ajax Experience planned for 2008"
Announced today, Ajaxian will be holding its Ajax Experience conference this year. The dates have been set as September 29 - October 1, 2008 and the venue will be the Renaissance Waterfront Hotel in Boston, MA. They have opened the Call for Papers until January 31, 2008.
If you're thinking about submitting a paper:
Approved speakers get a free pass to show and a stipend towards airfare and hotel. See our Call for Papers page for more details on how to submit a talk.
Tagged:
Dean Edwards has published an IE7 JavaScript library to make Microsoft Internet Explorer behave like a standards-compliant browser. It fixes many HTML and CSS issues and makes transparent PNG work correctly under IE5 and IE6.
Usage
IE7.js
Upgrade MSIE5-6 to be compatible with MSIE7.
<!--[if lt IE 7]>
<script src="http://ie7-js.googlecode.com/svn/version/xx.x/IE7.js" type="text/javascript"></script>
<![endif]-->
IE8.js
Upgrade MSIE5-7 with advanced CSS features missing from MSIE7.
<!--[if lt IE 8]>
<script src="http://ie7-js.googlecode.com/svn/version/xx.x/IE8.js" type="text/javascript"></script>
<![endif]-->
Note: You do not need to include IE7.js if you are using IE8.js
PNG Note: The script only fixes images named: *-trans.png
Download
http://ie7-js.googlecode.com/svn/version/
Tagged:
Nothing says "Razzle Dazzle" like a fish-eyed Apple iTunes-like photo gallery effect. So, here we are to present a creation of outcut.de called MooFlow that does just that. Built using the MooTools JavaScript Framework, MooFlow is currently in beta at version 0.1.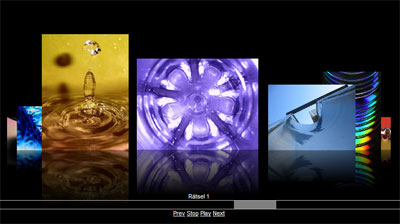 Features
* Autosetup onload
* Autoresize on changes of Window dimensions
* Scrolling with mouse wheel
* Scrolling with key input (left and right cursor)
* Autoplay presentation loop

Requirements
MooTools V.1.2 Framework
* Class: Class
* Native: all
* Element: Element.Event
* Element: Element.Dimensions
* Window: Window.DomReady
* Plugins: Slider

Compatibility
MooTools is compatible and fully tested with Safari, internet explorer 6 and 7, Firefox (and its mozilla friends), Opera and Camino.

Performance
If you use Firebug - disable it for testing.
Best image interpolation in Opera and Safari.
Code & Documentation is available at outcut.de
Tagged:
You might be asking yourself - "Do we really need another lightbox library out there?" Well if you've ever implemented a lightbox library then you know that most are limited to only displaying images. Facebox is a bit different because it allows you to lightbox divs in a page, remote pages, as well as images. A couple of the screenshots on the site show Facebox used as a alert window, part of an image gallery, or as a preview of a remote file - check out the demos and screenshots on FamSpam.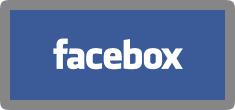 You'll notice that Facebox has taken its style from Facebook. But what you might not notice are the rounded corners on a Facebox. Some of you are tired of rounded corners and some of you aren't. If you aren't, then enjoy them. If you are, then just replace the corner images with sharp edges and you're all set.
Note that this library does require jQuery 1.2.1.
Visit the Facebox homepage to see some sample code and download the library
Tagged:
Remy Sharp has recently posted an entry on his blog about del.icio.us style tag suggestion using jQuery. If you've used del.icio.us then you're probably familiar with their tag suggestion feature as you type in tags for a bookmark. Remy has encapsulated this piece of functionality in a jQuery library he's made available for download.

The plugin has been successfully tested with:
IE 7, Firefox 2, Safari 3, and Opera 9.
Read the full post on Remy's blog to find out more about this plugin and to download the source code.