Ajaxonomy Labs
Tagged:
BuddyBlend


BuddyBlend is a way to easily get all of your friends activities in one location without logging into a bunch of different Social Networks. The big difference between FriendFeed and BuddyBlend is that with BuddyBlend you don't need to make friends with a new set of people to see what they are doing, instead it brings together the latest updates from the friends you already have on various social networks.
These social services are currently available on BuddyBlend.
Digg
del.icio.us
Twitter
flickr
FriendFeed
FaceBook
---
TubeSpy

TubeSpy is a web based spy that allows you to see what videos are being watched on YouTube right now. YouTube has a widget like this on their homepage and TubeSpy was an effort to turn that widget into an app. TubeSpy takes advantage of the Google Ajax Language API to enable support for 11 languages besides English.
---
del.icio.us Spy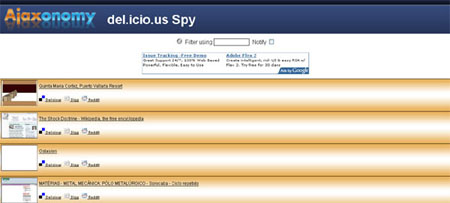 Our del.icio.us spy application allows you to see the latest bookmarks being added to del.icio.us so that you can find great new sites. The application also includes links to help make it easy to share what you find with others.
The application allows you to filter results (i.e. type in "web" and you will only see links containing the word web) and to be notified (via sound) when new items are added. The application also allows you to pause the items that are shown so if you find something you like you can see it for a while.
---
Bury Recorder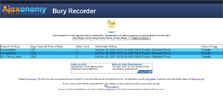 Our Bury Recorder application records all buries on Digg that are made available in the digg spy. Buries are recorded and stored for atleast two weeks and are accessible by the story's URL. There's also a feature that graphs Diggs vs Buries for a story using the Google Chart API. Finally, you can even view Digg's most buried stories through this application.