General Interface (GI) 3.6.0 has been released. This new version promises JSON data mapping (a very good thing as JSON is being highly used by Web 2.0 sites) and template custom control among other things.
Below are some of the key features highlighted on the GI website.
Make Richer Ajax Applications. Faster.

TIBCO General Interface™ 3.6.0
Professional Edition

• 100+ ready made Ajax controls

• Unparalleled visual tools

• Extensive docs


• Open source BSD licensed




General Interface 3.6.0 brings you:

• Template custom control

• CDF form mapping

• JSON data mapping and JSONP protocol support
One of the main issues that I have had with GI in the past is that it is very heavy on the front end load. Tibco has addressed this issue by allowing you to use different deployment types that allow you to fine tune what is loaded. This really helps the performance and makes the possible use of GI on public facing sites closer to a reality (there are still some browser compatibility issues that will keep the tool from major adoption on public facing sites).
You can learn more about GI (including downloading of the application) here.
The new version of GI is a good tool for developing Ajax applications for internal corporation use. While it is getting closer to possibly being useful in public facing applications, there is still some work to be done before I can see this happening.
Actually, the title should be "The Next Great Mid-Level Language", but doesn't sound quite as snappy...
There has been a lot of talk in the last year or two about Java losing ground to newer languages and about which language is going to replace Java as the dominant language going into the next decade. Various factions from the Ruby and Scala camps have weighed in on the debate in earnest, leaving even some die-hard Java programmers wondering if they should be learning a new language (and soon). After all the smoke clears, what should the reasonable person conclude? Is it time to move on?
Six Revisions has put together a great list of Flash and ActionScript resources. Since Flash is used throughout the web for animation and with ActionScript you can do some pretty nice programming to go with the animation it is nice to have some good resources.
You can read an excerpt from the post below.
ActionScript.org is a site that provides resources and information pertaining to Flash, Flex, and ActionScript. They have a fairly active Forums section as well as an ActionScript Library that currently has over 700 objects you can download.

Tutorial examples:

Flash and Math has a great collection of tutorials on AS3. They cover basic to advanced topics so that Flash developers of any level can find something they can read and learn from. Many of the tutorials include the source files for download.

Tutorial examples:

Pixel2Life, according to the site, is the "largest tutorial index catering to graphic designers, webmasters and programmers". With over 40,000 indexed tutorials, you'll find many links to tutorials in their Flash Tutorials section.

Indexed tutorial examples:

Flash Perfection is a website with a large collection of Flash tutorials, tips, and tricks from various websites. Flash Perfection has 23 categories to help you find information more quickly.

Indexed tutorial examples:
You can read the full post here.
With the major use of Flash for animation on the web this resource will help many web developers.
Tagged:
In an attempt to beef up its ad-search business by opening up its search technology, Yahoo has launched a new program called BOSS (Build your Own Search Service). The move is part of the new "Yahoo Open Strategy", a strategy that aims to attract more users and developers to Yahoo's technology and services by opening them up. It's not a totally free lunch, of course, as traffic over a certain "query threshold" will require some type of agreement with Yahoo, either hosted ads, revenue, or some type of exclusivity agreement.
With this first release of BOSS developers can fetch search content for Web, News, Image, and Spelling Suggestions. The API itself is a RESTful web service, with the option to receive data back from the service in JSON or XML formats. Full documentation on the search API is here.
The Ext JS team has released version 1.0 of its SDK for developing GWT applications with the Ext JS library. Despite some controversy around Ext's licensing strategy (namely the switch from LGPL to GPL), Ext GWT is currently one of the better integrations between a Java web application framework and a JavaScript framework.
Ext GWT 1.0 has been compiled and tested against GWT 1.5 RC1. Downloads are located here.
Tagged:
The Scala programming language, heralded by many of the Java cognoscenti as the language to replace Java, has garnered well-deserved praise as a sophisticated and capable language. But to many who have grown up in the tradition of C-C++-Java, Scala's hybrid imperative-functional design may be just too alien to their sensibilities. Given the history of popular programming languages, this is not a surprise. It was, after all, not Smalltalk but C++ that introduced OOP to the masses; and Java in no small way gained popularity by fixing many of the pains involved with programming in C++ while still retaining the same general style of syntax.
Now along comes a language called Fan, which takes a more evolutionary (as opposed to revolutionary) approach to language design, incorporating concepts from Java, C#, Ruby, and other languages (e.g. Erlang) into a fluid style that would be very comfortable for a programmer well-versed in any of these languages.
Here is a short list of interesting features in the Fan language:
Compiles to either JVM or .NET bytecode.
A Ruby-like syntax for using closures (with the method signature expression enclosed between two "|"). Like C#, functions are first-class citizens in Fan (represented by the Func class).
Fan has no concept of interface classes, but rather uses mixins for multiple inheritance. Mixins are like abstract classes in Java (i.e., they can declare concrete method implementations), but can contain no state (i.e., fields). This addresses one of the weaknesses of interfaces in Java (and C#), namely that it is very difficult to introduce new methods into the interface without breaking all of the existing implementations of this interface; this is a problem in widely-used public-facing APIs such as the Collections API in Java.
All threads in Fan have the ability to pass messages to other threads, i.e they use the Actor model for concurrency popularized by Erlang.
Fan is, generally speaking, a strongly and statically typed language. But Fan supports a special syntax for using dynamic typing with a "dynamic call operator", the "->". This operator allows you to call a method on a class without the compiler enforcing type checking. In other words, you don't have to cast a type just to call a method.
A unified namespace and deployment structure. The deployment unit in Fan is called the "pod". The first part of a namespace is always the deployment unit (pod), so identifying a missing class becomes much easier than the "jar hell" of Java (though arguably Maven makes this much easier).
Fan supports a "literal syntax" for programming with lists, maps, etc. that makes working with these common elements much easier.
More thorough documentation on the language is available here. In general, Fan does not introduce any world shaking concepts--certainly all of its elements are present in some form or another in other programming languages--but is distinguished by the fact that it makes very smart decisions about which features to use, combining them in a style that is both fluid and familiar to the average programmer.
Tagged:
A very useful design element on the modern web is the accordion element. With this useful design element you can never have enough accordion scripts to use. Well, WebTecker has put together a nice list of accordion scripts.
Below is an excerpt from the post.
You can read the full list here.
This is a great list and many of these scripts could be useful if you want a different accordion script.
Tagged:
Google has announced that they have added more real-time market data to Google Finance. This is great news for any user of Google Finance.
Below is an excerpt from the Google post announcing the change.
We're excited to let you know we're adding more real-time market data to Google Finance, Google.com and other Google properties. Starting today, you'll have access to real-time, last sale prices from the New York Stock Exchange (NYSE), along with those from NASDAQ, which we recently launched. Here's the NYSE press release.

What this means is that you can now get the latest real-time stock quotes on Google for free. Wondering what Ford (F) is trading at today? Search for it on Google or Google Finance and keep the page up to have the quotes stream live.

If you use iGoogle, add the Google Finance portfolio gadget to your homepage, and monitor all your NYSE and NASDAQ traded stocks in real time throughout the day.
You can read the full post here.
Google Finance is a very useful app to anybody following the stock market and anything that makes this app more useful is great.
Today is the official launch date for Mozilla's Firefox 3! The new version of the browser promises quite a few new features include performance improvements.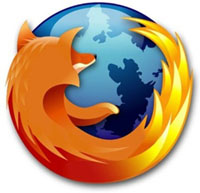 Below is an excerpt of a few new features.
Improved Platform for Developers

New graphics and font handling: new graphics and text rendering
architectures in Gecko 1.9 provides rendering improvements in CSS, SVG as well
as improved display of fonts with ligatures and complex scripts.
Color management: (set gfx.color_management.enabled on in
about:config and restart the browser to enable.) Firefox can now adjust images
with embedded color profiles.
Offline support: enables web applications to provide offline
functionality (website authors must add support for offline browsing to their
site for this feature to be available to users).

Improved Performance

Speed: improvements to our JavaScript engine as well as profile guided
optimizations have resulted in continued improvements in performance.
Compared to Firefox 2, web applications like Google Mail and Zoho Office
run twice as fast in Firefox 3, and the popular
SunSpider test from Apple shows improvements over previous releases.
Memory usage: Several new technologies work together to reduce the amount
of memory used by Firefox 3 over a web browsing session.
Memory cycles are broken and collected by an automated cycle collector, a new
memory allocator reduces fragmentation, hundreds of leaks have been fixed, and
caching strategies have been tuned.
Reliability: A user's bookmarks, history, cookies, and preferences
are now stored in a transactionally secure database format which will prevent
data loss even if their system crashes.
You can read all about the new features here.
I am just waiting until I can download the software (should be any moment) and I'd love to hear if you plan on downloading Firefox 3 or if you prefer a different browser.
Digg Spy is the real time tracker that shows what is happening on the social network Digg as it happens. The tool is a great way to follow Digg in a different way than the normal view.
We at Ajaxonomy.com have written a tool called the Digg Bury Recorder that uses a feed from Digg Spy to capture all of the buries of stories that are recorded by Digg Spy. Recently it was brought to my attention that the Digg Bury Recorder does not seem to be recorder new buries. In looking into the issue I found that the feed is not returning any data.
Thinking that perhaps Digg changed the feed (they have done this before) I went over to Digg Spy to check if the feed that is being used and the feed that we are using is correct. However, after leaving Digg Spy up for a moment I quickly realized that the Ajax portion of Digg Spy does not appear to be working (go to the page and it will look like it is working, but once it gets past the pre-loaded information it no longer works).
Without the Ajax portion of Digg Spy the application is useless and I wonder if I wonder if Digg knows of the problem or if they purposely broke the application (perhaps in an attempt to stop applications like the Digg Bury Recorder, although this doesn't really make sense).