Ryan Dewsbury has built a multiplayer GWT based Pictionary game called XSketch.

He is the creator of GPokr and KDice. XSketch is pretty fun and straightforward game. One player is shown a word he needs to illustrate. While he's drawing, the other players try to guess that word. The sketcher and correct guesser are awarded points only when the word is guessed correctly. However, only the sketcher loses points when no correct answer is guessed. The role of sketcher moves around the table so each player has the opportunity to draw.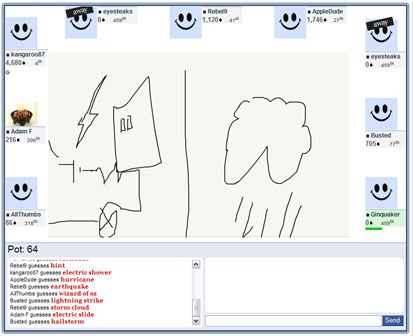 Tagged:
If you have been using BuddyBlend you have probably noticed the addition of a few new features and services.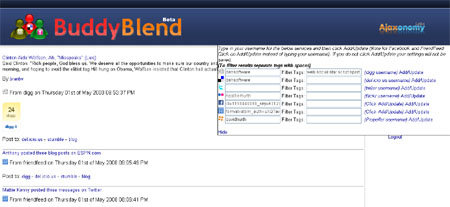 BuddyBlend now support the Propeller.com social network. We are working on adding more services, so keep an eye as we will be adding many more over the next month.
The next feature is the addition of the digg counter on all digg content. We hope that this will help keep you more connected to your digg friends.
The last and perhaps biggest new feature is the filter feature. This allows you to put tags or keywords that the system will look for to filter your friends activity! So, if you are only interested in Ajax, PHP and Java then it will only show your friends activity that has to do with these items.
We will continue to work to improve BuddyBlend and we would love to hear your thoughts on ways to improve the service.
BuddyBlend
Tagged:
AjaxWorld Magazine has posted an interesting post about TIBCO working closely with Microsoft. I find this quite interesting as TIBCO is usually thought to be more of a Java shop.
Below is an excerpt from the post.
TIBCO announced that the company is working closely with Microsoft to make it easier for customers to use their respective technologies together – giving them more power and flexibility over their service-oriented architectures.

The new technology integration and support announcements are focused on:

* TIBCO and Microsoft Windows Communication Foundation – enables Microsoft .NET Framework services and applications to easily communicate using TIBCO's Enterprise Message Service platform, giving these applications a degree of reliability and scalability not previously possible.
* TIBCO's selection of Microsoft Silverlight for Rich Internet Application development – Delivers the best experience for customers that have large-scale deployment and scalability requirements and complements what can be done using AJAX.

These announcements are the first wave of commitments focused on making it easier for customers to take advantage of their existing IT investments in software from Microsoft and TIBCO.

"We want to help customers make the most of their existing technology investments and provide them with the tools and infrastructure to continue to innovate," said Burley Kawasaki, director of the Connected Systems Division at Microsoft Corp. "By working with TIBCO to enhance interoperability with Windows Communication Foundation, we will make it easier for developers to create services across platforms."
You can read the full post here.
While much of this may be marketing speak it is interesting to see them "embrace" Microsoft at least to a degree.
Tagged:
Are you someone that has written or would like to write a sweet mash-up? Would you like to get a share of $100,000? Well, NetSquared's Mash-up Challenge is perfect for you.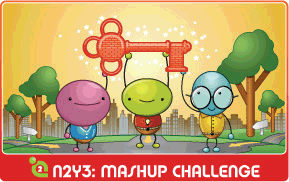 The challenge will be happening on May 27-28 at Cisco in San Jose, CA, so mark your calendars now.
Below is an excerpt from the post about the challenge:
How to Participate

I'm working with Billy Bicket, NetSquared's organizer, to recruit Project Leads interested in participating in a 4-week sprint leading up to NetSquared's conference, happening on May 27-28 at Cisco in San Jose, CA.

By contributing to NetSquared in the capacity of Project Lead, participants will be working with a leading social innovator working on a range of challenges including:

1. refining some of their ideas about how the data they are using could be rendered in mashups; and

2. in some cases, building mashups using a variety of APIs, products, or coming up with creative technical solutions to particular problems they are facing.

Project Leads will receive access to all NetSquared Hack Days. The next invite-only event is happening on May 4 at Moscone Center in San Francisco and is hosted by Sun and NetSquared. Project leads will also receive two free tickets to this year's NetSquared Conference.

Here is a quick run-down of the role and expectations for Project Leads and here are the simple next steps if you would like to participate:

1. Scroll through the list of 21 Featured Projects

2. Send Billy Bicket (billybicket -at- yahoo.com) an email with your favorite three (3) featured projects, and confirm your interest in participating by Wednesday, April 30 at noon.

4. Once you send Billy an email, he'll send easy next steps (including link to conference registration) and details about engaging with featured projects for expedient approach and execution.
You can read the full post here.
This looks like a great opportunity for anybody interested in making mash-ups!
You have probably seen our Ajaxonomy Labs section on the right hand portion of this blog. Well since we just launched our fourth application for the labs section we have decided that it is time for the labs section to have its own page.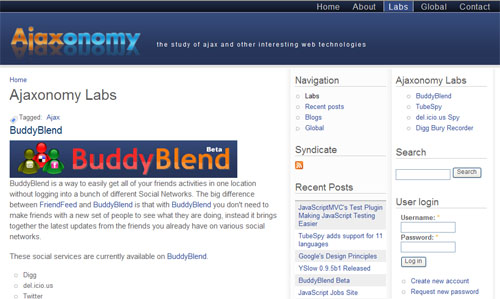 You can get to the page from the Labs link on the top navigation bar of this site. You will still be able to get to the four newest applications in the Ajaxonomy Labs section on the right hand portion of the page. However, all of the applications that we make will be available on the Ajaxonomy Labs page.
We would love to hear your thoughts on the page or on any of the applications. So, take a few minutes and check out the Ajaxonomy Labs page and leave your thoughts in the comments.
Tagged:
You may remember me writing about JavaScriptMVC about a month ago. Well, they have made a very cool plug-in for JavaScriptMVC (although you can also use the plug-in for non-JavaScriptMVC features) called Test that makes JavaScript testing much easier.
Below is an excerpt from the post on the plug-in.
Easy to use

Test is optimized for easy use. But, every library
says that. Here's why we mean it:

1. JavaScriptMVC's Console provides helpful messages to guide you through
setup

2. Asynchronous event tests avoid using nested functions to keep your
code easier to understand

test_open

: 

function

(){
   this.next(this.DirectoryDblclick(2));
   // call the next function when the open animation is complete

},
assert_open: function(params){
   // check there are 5 files in the directory
   this.assertEqual(5, params.element.childNodes.length);
}

3. If you use Controller, helper methods are automatically created that
simulate each controller action's event, such as TodoClick

4. Event simulation syntax so simple your grandma could understand it2

this.Keypress(element, 'h'); // Test syntax
YAHOO.util.UserAction.keypress(element, { charCode: 72 }); // Yahoo syntax
You can read the full post and see a demo of the plug-in here.
Further more the plug-in does more than just unit tests. It lets you simulate user interactions with your page:
Cross browser support for typical DOM events, like keypress, click, submit, blur, and focus
Simulate writing text or dragging an element
This plug-in looks pretty good and I plan on using it in a future application using JavaScriptMVC. Anything that makes JavaScript testing easier is a very good thing!

TubeSpy, our YouTube application from Ajaxonomy Labs, now supports 11 new languages. By utilizing the Google Language API, TubeSpy is now able to dynamically change the language used in the application.
Languages now supported by TubeSpy include: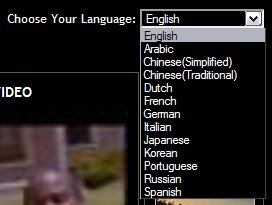 English
Arabic
Chinese
Dutch
French
German
Italian
Japanese
Korean
Portuguese
Russian
Spanish
Here's a sample in Russian: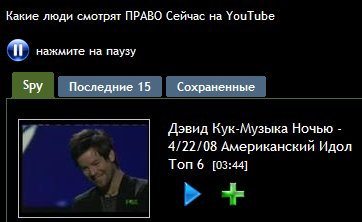 The app is still in beta, so be aware there may be some layout/formatting issues with the additional languages. In any case, please send us your comments, bugs, and feature requests.
Tagged:

Google's User Experience (UX) group has put together a list of 10 [high level] design principles that encompass what they call a "Googley" design. These principles represent their User Experience group's declaration of beliefs.
For your consideration, here are the ten principles:
1. Focus on people—their lives, their work, their dreams.
2. Every millisecond counts.
3. Simplicity is powerful.
4. Engage beginners and attract experts.
5. Dare to innovate.
6. Design for the world.
7. Plan for today's and tomorrow's business.
8. Delight the eye without distracting the mind.
9. Be worthy of people's trust.
10. Add a human touch.
For details on each principle, visit the Design Principles page on Google's corporate site.
Announced today at the Yahoo! Developer Network, YSlow 0.9.5 beta 1 has been released to address issues with Firefox and Firebug Compatibility.
In this release, you'll find:
Firefox 3 beta 5 support
Support for the latest versions of the different Firebug branches
Pie chart representation of the components in the Stats tab
Improved display in the expanded CSS expressions rule report in the Performance tab
Support for disabled Firebug Net Panel (default behavior in Firebug 1.2)
Misc fixes for the reports in the Tools section
You can download the tool here, report bugs here, read the performance rules, and participate in the performance mailing list discussions.
If you haven't heard of it before and are wondering what it does, YSlow analyzes web page performance and tells you why performance is slow. It's integrated into Firefox as a plug-in for Firebug. You can learn more about YSlow by reading the user guide.
Today we are releasing the latest application for Ajaxonomy Labs. The applications is called BuddyBlend. BuddyBlend is a way to easily get all of your friends activities in one location without logging into a bunch of different Social Networks.

You may be thinking that FriendFeed already does this and you are correct to a point. The big difference between FriendFeed and BuddyBlend is that with BuddyBlend you don't need to make friends with a new set of people to see what they are doing, but it gets the latest updates from the friends you already have on various social networks. Because I consider FriendFeed as a type of social network you can get your FriendFeed friends information on your BuddyBlend.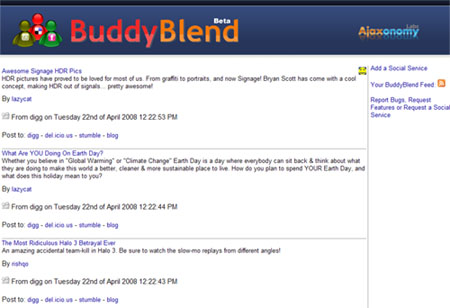 BuddyBlend is currently in public beta, so we will continue to improve on the application to make it more useful and work with more social networks.
Below are the social services that are currently available on BuddyBlend.
Digg
del.icio.us
Twitter
flickr
FriendFeed
FaceBook
BuddyBlend uses your free Ajaxonomy account, so if you already have an account there is no need to sign-up for a new account. As we continue to improve the application we welcome your feedback, so please let us know how we can improve the application.