Conferences
Visual WebGui is announcing that its rich Internet application platform can now enables customers to build and deploy applications to Microsoft's cloud computing environment, Windows Azure. Gizmox will demonstrate to customers and partners an extremely fast and low-cost method to port line of business (LOB) applications to the cloud using the Visual WebGui Cloud platform, at the WPC in New Orleans this week.
There is more information about the Visual WebGui platform as a cloud solution in the official press release. Click here.
Tagged:
Gizmox's Visual WebGui Web & Cloud platform will be presented at Microsoft's WPC in New Orleans between July 13 to July 16 within the Windows Azure booth. Visual WebGui can now enable the development & migration of applications to Microsoft's Cloud computing environment - Windows Azure.
Visual WebGui's virtualization technology also dramatically reduces customers' cloud bandwidth and CPU usage, offering a more cost effective runtime environment for native Azure applications.
VSLive was an overall great conference and I thought I would just write a quick wrap-up of the conference highlights. Below are the top items that happened at the conference.
Internet Explorer 8 is coming out very soon with quite a few changes, so you had better check your site on it now.
Visual Studio 10 will have a very clean user interface and should be available around September.
Silverlight is getting better and may give Flash some competition after a few versions if the plug-in gets more support (it will probably come packaged with IE8 which will help its acceptance).
MVC.NET is a pretty good and easy to use Model View Controller platform that will be out of beta very soon.
Microsoft Surface is very cool, but needs to come way down in price (currently it costs $10,000). Microsoft hopes to get it down to $2,000 soon, but I think they need to get it around $1,000 to get wide usage of it.
That's just a quick rundown of the highlights that I took from the conference. There where many sessions that I wasn't able to go to as there where usually four other sessions going on when I was at a session, so others may have some different highlights, but these are my highlights. VSLive is a very good conference and if you are a developer that works with Microsoft technologies, I would recommend this conference (although, if you are looking for another fun Microsoft conference go to DevConnections [last year I went to the on in Las Vegas and it was a lot of fun]).
Today was another good day at VSLive. With all the Silverlight and WPF action going on I am on sensory overload. After all the cool-aid that I've been drinking while here I am almost starting to think that Silverlight is going to kill Flash, but then I look at Expressions Blend 2 (I know you can do a lot in Silverlight with out using Blend, but it needs to get better to allow for better design) and realize that it still has quite a ways to go before it can compete.
The other big session was about the upcoming release of Internet Explorer 8. IE 8 has quite a few improvements over IE 7 these include a better set of development tools and web slices (they are like mini RSS feeds from a portion of a site). One interesting feature is the accelerators feature which makes it possible to highlight some text and have it sent directly to a web site (like a maps site or Google). You can read more about accelerators here.
IE 8 also promises to be more standards compliant and this will affect about 20% of web sites (so, finally people will have to start writing better code), so you will want to check you site on IE 8 to make sure it looks good. The new version also has support for cross domain XML, although I prefer the implementation that will be coming out in Firefox. IE 8 will be released very soon (as soon as in the next few weeks). You can get Release Candidate 1 of IE 8 here and check out all of the new features.
All in all this has been a great conference and one that I wouldn't mind coming back to.
Today was a very good day at VSLive. The day started with a great key note by Tim Huckaby (and quite a few other people during the demos) that was about going beyond HTML and featured demos using Silverlight and WPF. The WPF demos showed some great 3D demos and even featured some cool demos on Microsoft Surface (the table that is also a touch computer). You can see more about Surface here.
The day went on to have some great sessions including a session on Restful communication in .NET applications by Jon Flanders (it was full of reasons to stop using SOAP whenever possible). It even touched on using JSON (one of my favorite topics). You can read more about Jon at his blog.
The day went on finish strong with a great presentation by Tim Huckaby (you can read more about Tim here) on WPF. This was another presentation featuring a lot of great WPF and Silverlight demos. The day even finished with Tim trying to get his Windows 7 build to blue screen (apparently Windows 7 is quite a bit better than Vista, but it doesn't have all of it's video driver issues resolved yet). He wasn't able to get it to happen during the sessions, but I saw him do it before the session (it brought back memories of Windows 95).
Even though most of my application development is done in other languages (except for some C# and C++ that I am doing for a couple of projects) this has been a great conference. Hopefully, tomorrow will continue to be just as good.
I just got done listening to the key note at VSLive and it focused on the upcoming Visual Studio 2010. We where the first group at a conference to get a sneak peek of the new IDE.
My first thoughts of Visual Studio 2010 is that the interface is very clean. The new version of Visual Studio includes many things to help you write code faster, such as HTML snippets and the ability to generate classes after you reference them.
The Visual Studio 2010 Beta will be released in the next few months and the full release is currently scheduled for September of this year. It looks like it will be worth checking out.
You can see a video featuring Visual Studio 2010 here.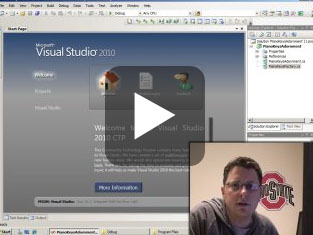 The second day of The Ajax Experience is behind us and it was even better than the first. It all started off with a keynote by Brendan Eich as I described earlier. After that, I attended a session titled "Struts on Ajax: Retrofitting Struts with Ajax Taglibs" where my take-away was to not use Ajax Taglibs, ever. Then came the lightning rounds, which were a great way to get a wide variety of information in a short amount of time. After the lightning rounds, Microsoft had a keynote that covered Microsoft's JavaScript developer tools, namely Visual Studio 2008 and Visual Web Developer 2008. There was also talk of the new IE8 developer toolbar, which is a great big step in the right direction for Microsoft. Strangely, the developer toolbar will be shipped with all instances of IE8. It includes features like:
DOM & CSS inspection
Live Editing
JavaScript debugger and profiler
Multiple Document Modes
I really enjoyed Joe Walker's "Advanced Web Application Security" session, where he covered a variety of security issues and complete solutions to help increase security. This is another great session to view once the videos are posted online.
Next up I attended back-to-back sessions by John Resig on Advanced jQuery and Visual Programming with JavaScript. These were two of the best sessions of the entire conference. Clear and concise lectures, chalk full of practical solutions and answers to complex problems.
The last session of the day was the "Ask the Experts Panel", moderated by Ajaxian.com co-founders, Ben Galbraith & Dion Almaer, featuring Brendan Eich, Douglas Crockford, John Resig, Joe Walker and Dylan Schiemann. There was some great discussion on JavaScript engines, Browsers, HTML5, ECMAScript, and more...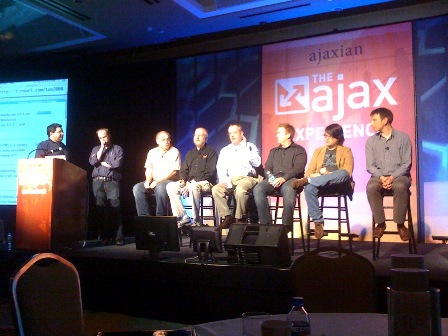 That's all for today! I'm looking forward to tomorrow for some more informative sessions.
We had a great session today that was comprised of 10 "lightning rounds" each lasting about 5 minutes.
Topics included:
Smushit.com – a web based tool that automates image optimization. You specify a URL, or batch upload images and smushit can greatly reduce the file size of your images without sacrificing any quality. A Firefox extension also exists to allow you to easily optimize the images on any page you visit.
Adobe Dreamweaver CS4 – the latest web development tool from Adobe, which was just recently released. You can expect to see some great new features in this version, including:

Workspace customization – coder, designer, compact preset workspaces
JavaScript intellisense and validation, including advanced intellisense that works with any JavaScript library or custom JavaScript classes and objects.
Live Code view – let's you see changes to the document in real-time as you interact with it.

Comet – discussed technique for Ajax push asynchronous message delivery from the server to the client
Making web apps faster – Steve Souders discussed manual vs. programmatic scripting to time web pages using Episodes, a proposed framework. Read more about Episodes.
Hacking Netflix – Netflix API to be released soon (this week), more info will be available at:
Interviewing JavaScript Gurus.
280 Slides / Objective-J , a strict superset of JavaScript
shiftspace.org – client-side JS and interface
milescript.org – new language that compiles to JavaScript, intended for large scale (enterprise) JavaScript solutions.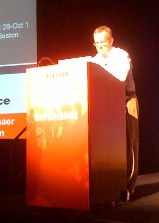 Tuesday morning here in Boston started off with a keynote by Brendan Eich, CTO of Mozilla and creator of JavaScript. The title of the session was "Faster than Light JavaScript", where Brendan discussed JIT compilation of JavaScript in the browser and the performance gains we can expect to see in the future. In particular, a new JavaScript engine code-named "TraceMonkey", based on the SpiderMonkey interpreter and the Tamarin-Tracing VM, is set to be released with an future version of Firefox.
Read more about TraceMonkey here
TraceMonkey is one of many current JavaScript engines, listed below:
JavaScriptCore: The engine that powers Safari/WebKit (up until Safari 3.1).
SquirrelFish: The engine used by Safari 4.0
V8: The engine used by Google Chrome.
SpiderMonkey: The engine that powers Firefox (up to, and including, Firefox 3.0).
TraceMonkey: The engine that will power Firefox 3.1 and newer (currently in nightlies, but disabled by default).
Futhark: The engine used in Opera 9.5 and newer.
IE JScript: The engine that powers Internet Explorer.
John Resig wrote a good post earlier this month covering JavaScript performance in these engines, read it here.
As day one comes to an end, it's been a whirlwind of asynchronous requests, CSS Selectors, Chrome, performance and more as we flew through the Ajax Universe. We've seen some great comparisons between open source JavaScript frameworks, including the specific focus and goal of each framework that helps to differentiate them from the rest. We've also seen how frameworks are on a path of convergence, each with similar solutions to the same problems. However, the likelihood of a unification of the major frameworks is unlikely in the short term.
Of the three developer breakouts, I attended the jQuery sessions which were very insightful. I was surprised to see the growth jQuery has enjoyed over the last 4-6 months, but it's not too surprising since it is an exceptional framework.
Another highlight of the day was Ben and Dion's Ajax Universe session where they used created a script to sound a buzzer at random intervals so they would switch turns. This was hilarious and turned out to be a great idea. As they buzzed back and forth, they stepped through the progression of the web over the years, showing where we started and where we are today. Their slides and video should be posted online soon, just stay tuned to ajaxian.com.
Finally, we had a session titled "The Top 10 Cross-Browser Issues". A panel of experts including Andrew Dupont (Prototype), Chris Heilmann (YUI), John Resig (jQuery), and Dylan Schiemann (Dojo) discussed how their respective frameworks handled browser issues. In particular, the discussion included the issue of browser user agent sniffing versus object/feature detection in order to create workarounds for browser issues. User agent sniffing has been the standard for all current libraries, but the next version of jQuery (1.3) will remove all browser sniffing and will rely solely on feature detection. John received some opposition from the other panelists about this approach, but was able to hold his ground and his vision of a more elegant approach for handling browser issues. John stressed that it is the responsibility of the JavaScript libraries to be good role models for coding practices and to encourage browser manufacturers to fix existing bugs instead of assuming that the developer community has already hacked around them.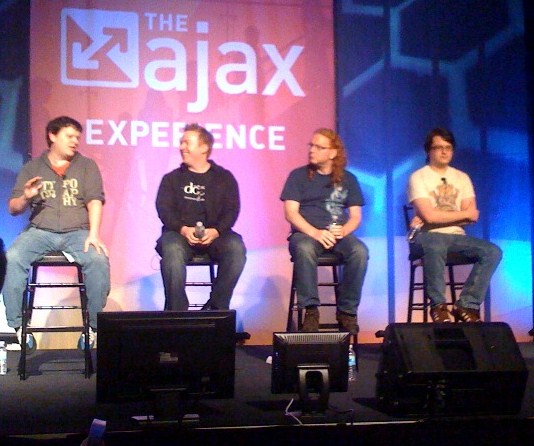 The discussion continued around issues with the DOM API and the pain it can cause. Then we moved to a new topic: the influence JavaScript libraries have with the browser vendors (which seems to be getting better). The discussion was fast and insightful. I spoke with one of the staff here and was told that videos of the sessions will be posted online at some point. When they are posted, be sure to check out this session.
That's all for today, it's time to head to the Microsoft sponsored "Evening Event"!