Google
Tagged:
Over at the Mashable blog, they have an interesting article on how the Goole +1 button can affect SEO. If you have a website, blog or web app and you want more people to know about it social networking share buttons are essential. They allow people to easily share content on their favorite social network(s).

According to this blog post these share buttons can have a positive affect on your sites SEO as the more times an item is shared it appears to raise its page rank. In Google with recent changes to the search that incorporate Google+ the Google +1 button appears to have a chance to make an even bigger impact to your SEO. The take away I got from this post is to try to include the Facebook, Twitter and Google +1 buttons on any sites that I want to have higher page ranks.

You can go to the referenced source of this post here.
Post written by Ajaxonomy using scovry
Tagged:
Right now It seems that everyone that is not on Google+ wants to be on Google+. I personally just received an invite and have been playing with the service this morning.
So far I have found Google+ to be a good social network, but I'm not sure yet if it will be a Facebook or Twitter killer. I think it might be incredible, but as we all know the most important thing in a social network is the size of the network. So, we won't really know how well Google+ will do until it is released to the entire public.
In the mean time everyone wants to be in the fairly exclusive club of people that have received invites. If you happen to be in the tech industry then you probably know someone that has an account. The key to getting an invite (outside of trying one of the many hacks that has been published) is simply to ask all of your friends. The chances are that after you check with all of your friends that someone will at least know someone that has an account and can be your ticket to an invite. So, before you can get on this social network (at least in it's early form), you will need to be social and network.
This week's tutorial is about the Google's GWT. If you are a Java developer and have never used GWT for your Ajax, then you may want to take a look at GWT for your Ajax needs. This particular tutorial talks about the new UI improvements over the past year.
A while back I wrote a post about creating a Product search using the Google Base API. We'll I've made a few examples for another blog that I've been writing on called The Porsche Guy's.
Since the blog focuses on Porsche related news and projects (I happen to have an older Porsche 944, so enjoy talking about the cars) I created two Porsche related searching tools. The first is a Porsche Parts finder that makes it easy to find the best prices on the Web for Porsche parts (you can go to the Porsche Parts Finder here). The second is a Porsche Finder, so it you are looking for a good deal on a Porsche then this tool will find the best on the web (You can see the Porsche Finder here).
My next post will go into detail as to how exactly I created these searching tools including code snippets, so look for part 2 of this post. Until then check out my first post about creating a Google Product Based Search Application here.
Tagged:
You may have seen the Google Product Search and may have thought that it would be useful to include a customized version of the search into a website or application. Unfortunately, you can't just create a custom search engine based on the Product Search using Google's custom search creator.
So, how would you incorporate the Product Search into an application? The answer is to use the Google Base API. The API allows for you to call a feed and if you use the [item type:products] option it will use the Product Search data.
The API allows you to receive the feed in Atom, RSS and JSON formats. Google has also made it very easy by making a feed URL builder (you can access the builder here).
So, if you want to make an application using the Products Search now you can.
Tagged:
Java dependency injection just got better: Google Guice 2.0 has been released.
What's new:
Provider methods. You can now annotate methods in your Module so you avoid manually constructing dependencies.
Binding overrides. One Module can now override the bindings in another.
Private modules. You can now create bindings that are not externally visible, in order to encapsulate your dependency injections.
The ability to inject members of sets and maps using Multibinder and MapBinder respectively.
ServletModule now provides programmatic configuration of servlets and filters. GuiceServletContextListener can be used to help bootstrap a Guice application in a servlet container.
Custom injections. Guice now includes hooks that allow other frameworks to define custom injection annotations. This enables Guice to host other frameworks that have their own injection semantics or annotations.
A tree-like structure for Injectors, i.e., an Injector can have children that inherit all of its bindings.
An introspection API: like reflection but for Guice bindings.
Pluggable type converters that convert constant string bindings to other types, i.e., Dates, URLs, etc.
OSGi compatible. Guice now works well in OSGi managed environments, because AOP-generated classes use a bridge classloader.
AOP is now optional, so Guice will work on platforms that don't support bytecode generation (Android).
You can download the new release here. The new manual is here. Now all they have to do is update the public Maven repository.
javax.inject.Inject
On related news (Crazy) Bob Lee, the creator of Guice, and Rod Johnson, the creator of Spring, have gotten together to propose a standard set of annotations and interfaces for using dependency injection in Java under the banner of JSR-330: Dependency Injection for Java (still only a proposal, so JSR-330 is a tentative moniker). There is also a corresponding project over at Google Code. The standardization should greatly help the use of dependency injection in shared 3rd party libraries, allowing the application developer to avoid having to initialize more than one dependency injection framework.
These annotations are modelled closely on those currently in Google Guice:
@Inject - Identifies injectable constructors, methods, and fields
@Qualifier - Identifies qualifier annotations
@Scope - Identifies scope annotations
@Named - String-based qualifier
@Singleton - Identifies a type that the injector only instantiates once
The utility interface Provider is also in the proposed specification.
Hot on the heels of the announcement that Java can now be used with the Google App Engine, the Google Plugin for Eclipse has been released, supporting both Google Web Toolkit and Google App Engine development.

GWT Features:
Recognition of inline JavaScript (JSNI): syntax highlighting, auto-indenting, Java Search and Refactoring integration
GWT compiler shortcuts and configuration UI
Wizards to create entry points, modules and HTML pages
Support for GWT JUnit tests
App Engine Features:
Easy deployment to App Engine
As-you-type validation ensures that your code is compatible with App Engine
Build projects and 'enhance' JDO classes automatically without the need for ANT
The user's manual for the plugin is here. The plugin works with both Eclipse 3.4 (update site) and 3.3 (update site).
Google has released the 2.0 beta version of its Webkit-based browser, Chrome. The new release features:
25-35% faster JavaScript performance for Google's V8 engine
Form autofill
Bookmark sorting
Autoscrolling
Full-screen mode
A new way to drag tabs in order to get a "side by side" view
Mouse gestures for resizing windows
Limited Greasemonkey support
Like its cousin Safari, the new Chrome browser should also be Acid 3 compliant since it is built using a much more recent version of Webkit (Chrome 1.x is not). You can download the new beta here.
UPDATE: Actually, Chrome 2 (build 2.0.169.1) scores 98/100 on Acid 3. Close, but not yet.
Tagged:
Google has created an online resource for testing your JavaScript code, the AJAX APIs Playground. The tool includes support for a number of Google APIs (including Maps, Earth, Blogger Data, and Visualization) as well as jQuery, jQuery UI, Prototype/Scriptaculous, MooTools, and Dojo.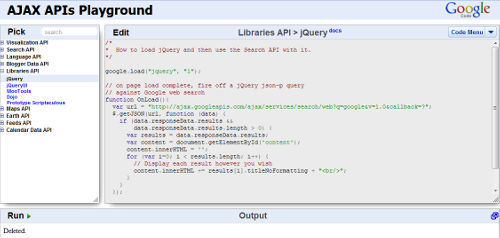 Google Chrome has just turned the big 1.0, as the browser has met Google's requirements for stability and performance.
Changes from the Beta
A short list of improvements includes: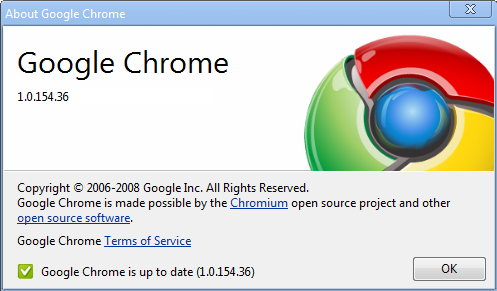 Of course, the Chrome team isn't done yet. Future enhancements to the browser include form autofill, RSS support, and extensions.
You can download Chrome here.