News

TubeSpy, our YouTube application from Ajaxonomy Labs, now supports 11 new languages. By utilizing the Google Language API, TubeSpy is now able to dynamically change the language used in the application.
Languages now supported by TubeSpy include: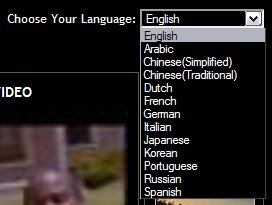 English
Arabic
Chinese
Dutch
French
German
Italian
Japanese
Korean
Portuguese
Russian
Spanish
Here's a sample in Russian: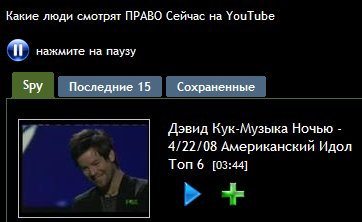 The app is still in beta, so be aware there may be some layout/formatting issues with the additional languages. In any case, please send us your comments, bugs, and feature requests.
Announced today at the Yahoo! Developer Network, YSlow 0.9.5 beta 1 has been released to address issues with Firefox and Firebug Compatibility.
In this release, you'll find:
Firefox 3 beta 5 support
Support for the latest versions of the different Firebug branches
Pie chart representation of the components in the Stats tab
Improved display in the expanded CSS expressions rule report in the Performance tab
Support for disabled Firebug Net Panel (default behavior in Firebug 1.2)
Misc fixes for the reports in the Tools section
You can download the tool here, report bugs here, read the performance rules, and participate in the performance mailing list discussions.
If you haven't heard of it before and are wondering what it does, YSlow analyzes web page performance and tells you why performance is slow. It's integrated into Firefox as a plug-in for Firebug. You can learn more about YSlow by reading the user guide.
Tagged:

John Resig has just created JavaScript Ninja Jobs, a site dedicated to JavaScript Jobs. Currently, it's free to post and to apply for jobs on the site.
Some example jobs include:
Ajax Developer
User Experience Developer
Senior-level Web Developer
jQuery Plugin Developer
Rails Developer
Front-End Software Engineer
Check out these and other jobs at jobs.jsninja.com
There's also a Jobs RSS feed to keep you updated on the newest job postings.
Tagged:
If you haven't noticed, Alexa has changed their rankings. The site that attempts to put a ranking on all sites on the internet now takes data from more sources in an attempt to give more accurate ratings.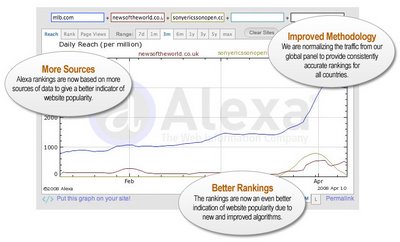 Below is an excerpt from the Alexa blog.
When Alexa began displaying rankings in 1998 it was with the goal of showing Alexa Toolbar users how popular any given site was within the Alexa community. We generated the rankings through an analysis of Internet usage by people who use the Alexa Toolbar. Since that time we've been delighted to see that the Alexa Rankings have become a yardstick by which website popularity is measured. We are grateful to the thousands of people who come to Alexa.com each day to check the Alexa Rankings.

In recent months we've heard from our Alexa users that understanding Internet usage beyond Alexa Toolbar users was increasingly of interest. Ask and you shall receive!

We listened to your suggestions, and we believe that our new rankings system is much closer to what you asked for. We now aggregate data from multiple sources to give you a better indication of website popularity among the entire population of Internet users.
You can read the full post here.
The change is very interesting especially if you look at tech websites. Many technology blogs have gone down by as much as 300,000 from what they where before the change. This change is an interesting one and a good one if the numbers are more accurate as to how much of the actual internet population are viewing a site. If you have any thoughts on the new Alexa rankings then I would love to hear them.
Tagged:
Normally I write about some new technology, web service or a programming tutorial. However, today I want to write about something that involves technology in a larger sense (don't worry, I'll get back to writing the usual tomorrow).
I live in California (USA) and we Californians drive quite a bit. The other day as I'm filling up my car and see the $40 mark passed by a Ford Focus, I started to think how can we be less dependent on Foreign Oil (I know all of the great minds are trying to solve the same problem). After quite a bit of thinking I came up with a solution that I think would make everybody happy. The answer is one that was common during the first dot com boom, telecommuting.
Think about it, if employees where allowed to telecommute at least 3 times a week, not only would we reduce the amount of gasoline that is used, but we would use less energy in offices. Just think of how companies could possibly reduce the amount of cubes that are needed since employees would not have to be in the office everyday, so shared cubes would be possible. Less cubes means less office space would be needed and less energy used to run the office.
This would save quite a bit of money for both the employee and the employer and would reduce our energy use. Beyond this employees would be much happier as it would help them have a better work / life balance.
Perhaps one day this idea will take off and we will hear politicians asking companies to go to a telecommuting model of business. I would love to hear your thoughts on this solution to reduce our energy consumption and dependence on foreign oil.
Tagged:
If you are a developer of Facebook applications your applications may be affected by the new security patch release for Flash 9. The patch will be distributed this April (so, it will be released very soon and no this isn't an early "April Fools" joke).
Below is an excerpt from the announcement by Facebook.
If any of the following situations apply to your application, then your application could be affected by the update.

You use sockets or XMLSockets, regardless of the domain to which you are connecting
You use addRequestHeader or URLRequest.requestHeaders in any network API call when sending or loading data cross-domain
You provide access to content on remote domains as a web service provider
You have SWFs that are exported for Flash Player 7 (SWF7) or earlier that communicate with the hosting HTML by any means
You can read the full post here. Also, you can read the Adobe post here.
If you develop Facebook applications or if you are a Flash developer then you will want to look into how this may affect your applications.
Tagged:


Via Kevin Hakman at the Aptana Blog, Jaxer 0.9.5 is now available with more horsepower and extra bells and whistles.
Download the latest version here
Expect performance gains to due Jaxer's core now being based on Firefox 3 and because Jaxer now pre-parses scripts to bytecode. Bells and whistles include more natural window/document objects on the server side, no more inlined external scripts, and a new autoload feature that caches scripts so they don't have be loaded on demand.
Over at cnet's News.com they have reported the John Lilly the CEO of Mozilla has criticized Apple's auto-update practices.
Below is an excerpt from the post.
In a blog on Friday, Mozilla CEO John Lilly criticized Apple's practice, uncovered this week, of offering iTunes and QuickTime users Safari 3.1 on Windows through the Apple Software Update pop-up.

Lilly says that automatic updates are a good way to ensure people have the most recent and secure versions of software. It's a practice that Mozilla uses with the Firefox browser.

What's different in what Apple is doing is that it is adding a product to the auto-update list that users never requested. That means they could very easily install software unintentionally, he argued:

Apple has made it incredibly easy--the default, even--for users to install ride along software that they didn't ask for, and maybe didn't want. This is wrong, and borders on malware distribution practices.

It's wrong because it undermines the trust that we're all trying to build with users. Because it means that an update isn't just an update, but is maybe something more. Because it ultimately undermines the safety of users on the Web by eroding that relationship. It's a bad practice and should stop.
You can read the full post here.
I would love to hear your thoughts on this practice (You can leave them in the comments or write a post about it on this blog using your free Ajaxonomy account).
You might have caught on to the fact that we here at Ajaxonomy appreciate the spy game. We are happy to announce a Beta version of TubeSpy, the latest addition to Ajaxonomy Labs. TubeSpy is a web based spy that allows you to see what videos are being watched on YouTube right now. YouTube has a widget like this on their homepage and TubeSpy was an effort to turn that widget into an app.
TubeSpy was built with jQuery, a fantastic JavaScript framework, the jQuery UI library for the tab controls, and of course, the YouTube API. Tested in IE6, IE7, and Firefox 2.

With TubeSpy you can:
see what others are watching
watch videos without leaving the page you're on
save videos as you see them scrolling
easily watch related videos
and more...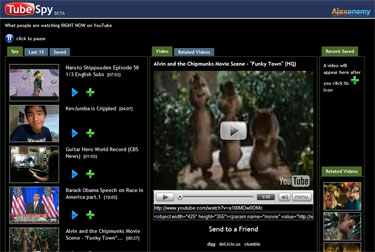 The more you use TubeSpy, the more interesting it becomes. Watching as videos scroll by creates a small, constantly shifting, window into the world. Visit TubeSpy after news breaks in the political world and you'll find some political videos, check it out after your favorite reality show airs for clips people have posted.
We hope you enjoy using the app and find some value in it. Feel free to post any feedback in the comments. Do keep in mind that this is a Beta release, and calling it a Beta release is a CYA (Cover Your Apps) measure to have an excuse in case a bug pops up in the app.
That's right, IE8 Beta 1 is here.
Check out the overview of features, changes, and enhancements as well as a readiness toolkit for developers.
Here are the direct links: