News
Version 0.96 of AjaxMGraph, an Ajax based graphing library built on the Prototype JavaScript framework, was released today and is available for download.
Updates in this new release:
* Added Option to draw two or more graphs
* Code modified to be more user friendly, and up to date with modern standards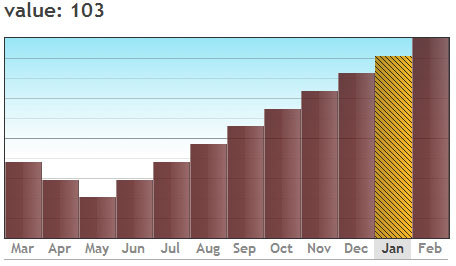 * Download (zip, 14KB)
Tagged: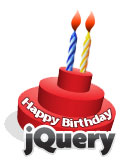 In case you haven't heard, today is the 2nd birthday of jQuery. Stop on over at the blog of John Resig, creator of jQuery, to read about how jQuery made it to prime time.
To celebrate this event, a new release of jQuery is out - version 1.2.2 - which is primarily a bug fix release (contains over 122 bug fixes). Not to mention, some 300% speed improvements to $(DOMElement):
| Browser | 1.2.1 (ms) | 1.2.2 (ms) |
| --- | --- | --- |
| Firefox 2 | 0.041 | 0.015 |
| Firefox 3 | 0.033 | 0.01 |
| Safari 3 | 0.017 | 0.005 |
| Opera 9 | 0.023 | 0.004 |
| Internet Explorer 6 | 0.04 | 0.03 |
Read more about this release on the full announcement.
Tagged:
Ruby In Steel, an IDE for Ruby on Rails, has been released by SaphireSteel. The IDE is based on the Visual Studio 2008 Shell and will sell at a starting price of $49 or $199 for the developer edition (you can get more information here).
Below are the minimum system requirements to run the IDE.
Minimum Requirements: Windows XP (service pack 2) or Vista. Visual Studio 2008 Standard Edition or above is optional - if you don't own Visual Studio 2008, Ruby In Steel will install a standalone Ruby-language edition of Visual Studio 2008.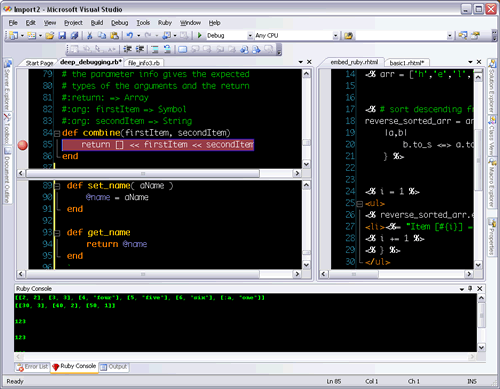 You can get a list of all the application features here.
Below are a few excerpts from the InfoWorld article: Ruby on Rails IDE geared to Visual Studio 2008 users.
"We put all our support into Visual Studio so the end-user gets a Ruby-flavored edition of Visual Studio," with its attendant capabilities, Collingbourne said.

Use of the Visual Studio Shell gives SapphireSteel a chance to compete with Eclipse-based IDEs, such as CodeGear's 3rdRail, which also is billed as a Rails IDE, SapphireSteel said.
The IDE is a great tool for those that like the Visual Studio IDE and would like to develop Ruby on Rails applications.
You may be familiar with the Acid 2 Browser Test, but the news is that an Acid 3 test in the works. Announced earlier today on John Resig's blog, a new Acid test is being created and a pre-pre-pre-alpha development version is available here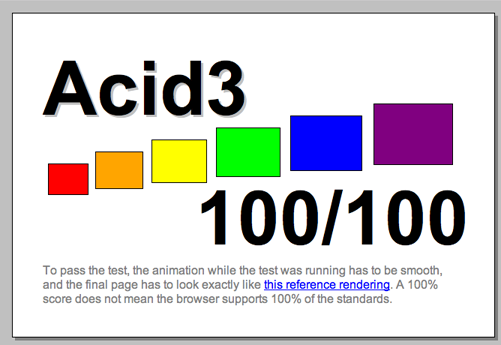 Here's an excerpt from John's post:
Traditionally, the Acid test has served as a way to get browser vendors in line by testing them on really-annoying edge cases. This can, sometimes, get people tied up in knots but it actually serves as a devious way of getting people to meet a large part of a spec.

For example, in order for a browser to have some weird padding/margin test case solved - in CSS - they must also have a working box model. So while an Acid test may not, explicitly, test for a working box model, it will be done implicitly (by testing edge cases that result from it).

With that in mind, it's time to take a look at Acid 3 which primarily focuses on technology that I find to be interesting: ECMAScript and the DOM.
Go read the full post for more information and to see just how badly the major browsers perfom on the test!
I went ahead and submitted the Acid 3 test url to browsershots.org and ran it through a few different browsers/operating systems, you can check the results here.
Jon Ferraiolo announced today that the OpenAjax Hub 1.0 Specification was approved by the Interoperability Working Group, the members, and the OpenAjax Alliance Steering Committee. This represents the first approved Specification for OpenAjax Alliance per the terms of the OpenAjax Alliance Members Agreement.
OpenAjax Hub provides standard JavaScript that, when included with an Ajax-powered Web application, promotes the ability for multiple Ajax toolkits to work together on the same page. The central feature of the OpenAjax Hub is its publish/subscribe event manager (the "pub/sub manager"), which enables loose assembly and integration of Ajax components. With the pub/sub manager, one Ajax component can publish (i.e., broadcast) an event to which other Ajax components can subscribe, thereby allowing these components to communicate with each other through the Hub, which acts as an intermediary message bus. The umbrella use case for the OpenAjax Hub is the set of scenarios in which an Ajax developer needs to deploy a single application that uses multiple Ajax libraries simultaneously.
> Read the final approved specification
The next phase is OpenAjax Hub 1.1, which will add secure mashup support and client-server communications. We expect an initial draft specifications and open source to appear in the next few weeks.
If you're unfamilar with The OpenAjax Alliance:
The OpenAjax Alliance is an organization of 80+ vendors, open source initiatives, and Web developers dedicated to the successful adoption of open and interoperable Ajax-based Web technologies. The prime objective is to accelerate customer success with Ajax by promoting the ability to mix and match solutions from Ajax technology providers and by helping to drive the Ajax ecosystem.
Last year, 19 Ajax toolkits participated in the Second OpenAjax InteropFest for the OpenAjax Hub 1.0 spec and passed the test. The toolkits in alphabetical order are:
Mozilla Corporation, makers of the wonderful open source Firefox browsers (they do make other browsers as well) has just named John Lilly as their new CEO.

Below is an excerpt from Michell Baker's blog announcing the new change.
As a result I've asked John to take on the role of CEO of the Mozilla Corporation, and John has agreed. In reality John and I have been unconsciously moving towards this change for some time, as John has been providing more and more organizational leadership. It is very Mozilla-like to acknowledge the scope of someone's role after he or she has been doing it for a while, and this is a good part of what is happening here. I expect this transition to continue to be very smooth.

I will remain an active and integral part of MoCo. I've been involved in shipping Mozilla products since the dawn of time, and have no intention of distancing myself from our products or MoCo. I'll remain both as the Chairman of the Board and as an employee. My focus will shift towards the kinds of activities described above, but I'll remain deeply engaged in MoCo activities. I don't currently plan to create a new title. I have plenty of Mozilla titles already: Chairman of the Mozilla Foundation, Chairman of the Mozilla Corporation, Chief Lizard Wrangler of the project. More importantly, I hope to provide leadership in new initiatives because they are worthwhile, separate from any particular title. We will probably create an Office of the Chairman with a small set of people to work on these initiatives. I intend to remain deeply involved with MoCo precisely because I remain focused on our products and what we can accomplish within the industry.

There will be some differences with this change of roles. Most notably:

John's role in products and organization will become more visible to the world as he becomes more of a public voice for MoCo activities.
Today-- in theory at least-- John provides advice to me for a range of decisions for which I am responsible. In the future I'll provide input to John and he'll be responsible for making MoCo an effective organization. I expect to provide advice on a subset of topics and thus reduce the duplication of work. On the other hand, I also expect to be quite vocal on the topics I care about most. John and I agree on most things these days, but that doesn't stop me from being vocal :-)

I'm thrilled with this development, both with John's new role and with mine. If you've got thoughts on the kinds of projects I want to set in motion, I'm eager to hear them. And don't be surprised if you see the Mozilla Corporation doing more faster-- that's a part of the goal. We're all committed to doing things in a Mozilla style and you should expect to see that continue to shine through all that we do, whether it's shipping product or developing a new initiative.
You can read the full post at Mitchell's blog.
There should be little visible changes other than the obvious title changes. Lilly will become the spokesperson for Mozilla's activities and Mitchell will be the point woman on the new focus in the world of security standards. Hopefully the Mozilla products will continue to thrive through this change.
Tagged:
Cuong Tham over at Code Central created a YUI based Lightbox library and has just released the final version. For those of you unfamiliar with Lightbox, check this out.
What's New in this release?
The most significant change in this version of the lightbox is that image thumbnails are no longer required for creating lightbox instance. That implies that you can create an image gallery without the presence of image thumbnails. The more exciting aspect of this new feature is that you can virtually grab any image from the internet and include it in your gallery.

Below is the detailed list:

* Ability to view full size and auto-fit version of the image
* Settings for changing background mask opacity and color
* keyboard shortcuts
* Tooltip panel for displaying extra information
* Navigation control toolbar
* Image transition effect
* External stylesheet for styling

Bug Fixes

* Fixed image goes outside of viewport bug
* Removed extra scrollbar when the image can be fit into the viewport

The lightbox has been tested in Firefox 2.0.0.6, IE 7, Opera 9.21.
Check out a demo with thumbnails and without thumbnails [I recommend the black or the white theme as they look best].
One thing to note is that this is a hefty Lightbox implementation, weighing it at around 63KB for all required JavaScript files whereas the original Lightbox library only required about 13KB of JavaScript. That's a high price to pay for a cool gallery. But nevertheless, thanks to Code Central for putting this out, it's nice to see the differences in their implementation. If nothing else, you can download their source and play with it in your sandbox.
Click here to read the full article and download the source code.
Tagged:
New today from script.aculo.us:
This is a bugfix release that bumps script.aculo.us to version 1.8.1. Also included in this release is Prototype 1.6.0.1 beta.

Mainly, this release contains some important bug fixes and optimizations in Prototype, fixes cursor keys in autocompleting text fields for IE and Safari plus fixes an issue with Effect.Morph on IE.
In case you haven't heard of script.aculo.us, it's a JavaScript library built on the Prototype JavaScript Framework, providing dynamic visual effects and user interface elements via the Document Object Model. script.aculo.us includes an animation framework, drag and drop, Ajax controls, DOM utilities, and unit testing.
You can download this latest release at http://script.aculo.us/downloads
We are proud to announce the release of Ajaxonomy's Digg Bury Recorder version Beta 0.2. This new release has a number of new features and fixes some issues that occurred with version Beta 0.1. Below is the list of new features and bug fixes.
New Features
Captures all buries for all stories
Graphs diggs to buries
Big Fixes
Recorder not capturing all buries
The first new feature above is one of my favorites. The tool now captures buries from all stories posted to Digg. The great thing is that you no longer have to leave the application running over night and you won't miss a bury because the application was not started!
The second feature shows a graph of diggs and buries. So, now you can see a graph showing how many diggs you had at the time of each bury. This was created using Google's Chart API.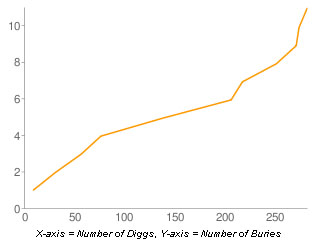 For fixes this release fixes a bug that was causing some buries to not be captured. This was due to server delays and browser issues. The fix has been tested and appears to be working, but if you notice an issue contact us using the Contact button on this blog.
Well, that is a run down of the new features and fixes with this release, so please let us know of any bugs you find. Also, if you find any interesting information using the tool you can sign up for a free account on this blog and write a post like this one that has a chance to appear on the home page of Ajaxonomy.com (a.k.a. this blog).
In case you don't have the link to application click here to be taken to the application.
Update:
It has been pointed out that the application does not capture 100% of Digg bury data. It does capture 100% of Digg Spy's bury data, which captures all buries for upcoming and popular stories. However, it does not capture buries from stories that have been fully buried as these can no longer make the Digg home or popular pages. So the tool will show you the buries that matter (the buries that keep you off the home page).
Thanks to everyone that pointed out this clarification.