News
Tagged:
The 6.2.2 release provides compatibility to MS Silverlight RC0/RTW, and now supports development & deployment of web applications with the latest Silverlight technology. As stated before, Microsoft has released Silverlight 2 with weak backwards compatibility to previous Silverlight versions, which resulted in some presentation issues with the Silverlight layer that are now solved.
The new release also includes the Visual WebGui WinForms-like designer allowing simple and cost-effective Web development, and the new ASP.NET Control wrapper wizard introduced earlier this month.
Version 6.2.2 provides further stabilization to 6.2 which brought new standards in developer experience. for more information please read the official announcement.
The new Visual WebGui SDK is now available for download.
Tagged:
Hi,
As announced before on Visual WebGui.com, the 6.2.2 release which is expected to be released later this week will provide compatibility to MS Silverlight RC0/RTW.
As you probably know, Microsoft recently released a new version of Silverlight which provides almost no compatibility backwards to older Silverlight versions. This means that all the released VWG Silverlight applications will not work with this new MS Silverlight version.
Furthermore, Microsoft triggered an automatic update mechanism inside Internet Explorer to have the Silverlight ActiveX update without asking. As a result, all computers with MS Silverlight client installed on it have the new version, unless the user manually removed it.
Since Microsoft released this incompatible version, our Silverlight development team has been working very hard on modifying Visual WebGui to get in line with those changes and support the new MS version once again. We were also promised by Microsoft director in Silverlight group that this was the last back compatibility breaking.
Learn more about developing Silverlight Applications with Visual WebGui
Tagged:
On Nov 24 at 9am PT, Visual WebGui will be presenting another Webcast as part of the MSDN Webcast series:
Integrating Visual WebGui into Visual Studio Simplifies Development and Saves Time and Money
In this webcast, we will demonstrate the new integration, usability & compatibility features introduced with version 6.2.
Attend this webcast to learn how the Visual WebGui platform increases productivity when developing AJAX DHTML and Microsoft Silverlight applications, saving time and money. And learn about Visual WebGui's complete integration into the Microsoft Visual Studio development system, a consolidated installation process, and the opportunity to use Microsoft Visual Studio Express Editions for software evaluation and trials.
Tagged:
I would like to share with you the release announcement of Visual WebGui 6.2.1 SDK made last week by Gizmox.
The Visual Webgui SDK now incorporates both the DHTML and the Silverlight and enables to work with both .NET 2.0 and 3.5 on the same machine. In addition, the new release includes the new wrapper feature announced earlier.
Version 6.2 presented some important enhancements mainly to the developer experience as it introduced a complete integration into Visual Studio, a consolidated installation process and compatibility with Visual Studio Express edition and DharpDevelop.
Here is a more detailed about this version description:
New feature Summary
ASP.NET Control Wrapper wizard Asp.Net Wrapper wizard added to Visual WebGui infrastructure.
This wizard enhances Visual WebGui abilities and allows you to use any ASP.NET thirdparty control that you have and add it to you Visual WebGui application as an out ofthe box control. Making Visual WebGui applications even richer than before.
Issue Summary
VWG-2721 Tabbing between controls bug solved
VWG-3097 Problems with Flow Layout Panel bug solved
VWG-3140 Integration package and source control problems solved
VWG-3189 Installation prerequisites warnings & errors issues fixed
VWG-3143 DateTimePicker in Time Format with ShowUpDown set to true AM/PM problem fixed
VWG-2363 TextBoxValidation IntegerMaskValidator fixed and dosent allows non-numeric characters
VWG-3139 Now you can install 2.0 and 3.5 at the same time
VWG-3178 Unnecessary padding was removed from bottom RibbonBarGroup
VWG-3130 EnterKeydown event Problem was fixed and is now fired
VWG-2460 TreeView events issues solved
VWG-3077 DataGridView border fixed
VWG-2699 Anchor in HtmlBox fix
VWG-3078 Session state serialization under IIS fixed
VWG-3076 Charting in catalog fixed
VWG-3033 Theme registration in VS2005 solved
VWG-3061 Problem with controls events in FlowLayoutPanel solved
The Visual WebGui framework is available as a free download here
Tagged:
In the tradition of "Release early, release often", the Netbeans team has released version 6.5, continuing the rapid release cycle the project set with 5.5, 6.0, and 6.1. There many new features, most notably support for Groovy /Grails and PHP. Here's a short list of the other "new and notables":
A new "Compile and Deploy on Save" feature for Java applications.
Support for the Nimbus look and feel in the Swing GUI builder (Matisse)
Big improvements in the JavaScript support, particularly in the area of debugging.
Support for Ruby on Rails 2.1 (JRuby 1.1.4 is bundled)
Improved SQL support, including SQL history and editor auto-completion.
There is also an early access release of Python support in Netbeans that is available as a separate download.
Get Netbeans 6.5 here.
Tagged:


JS Strict Data Types Beta version 1.1 has just been released. The new release fixes various bugs that where found in the initial release. The biggest fix was one that caused the string and integer data types to not be kept correctly in certain situations.
Any code that you may have written using the library should work with no code changes. So, we recommend that anybody using the initial release start using this new release.
You can go to our Google Code page here.
You can download the new version here.
Tagged:
There may be times when you have a table that you want users to be able to sort. In some cases it will make sense to have the table sorted on the server side, however for smaller tables it may be useful to have a script sort it on the client. Well, over at the Leigeber Web Development Blog they have posted a nice small script that accomplishes just that.
below is an excerpt from the post.
This JavaScript table sorting script is easy to use, fast and lightweight at only 1.7KB. It includes alternate row formatting, header class toggling, auto data type recognition and selective column sorting. It will currently sort strings, numbers and currency. More features will follow.
You can read the full story here.
You can see a demo here.
You can download the source code here.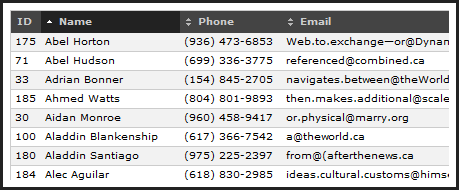 Google has announced the introduction of some powerful visualizations for your server-side data. They have publicly documented the Google Visualization API's open-wire protocol (you can go to the documentation here). The API has been greatly expanded from when it first launched and can now expose server-side data, such as SQL databases and even Excel spreadsheets, and display this data through visualizations from their growing directory.
Below is an excerpt from the post.
To make it even easier for developers to get started, we have documented an open-source Python library that enables any Python developer to quickly start using the API. What we find particularly cool about this library is that it also runs on Google's AppEngine. You don't even need to be an owner of your own servers to expose your data: You can place it on AppEngine and use the Visualization API to expose your data in meaningful, insightful ways in dashboards and reports. Expect to see additional server-side tools for the Visualization API in the near future.
You can read the full post here.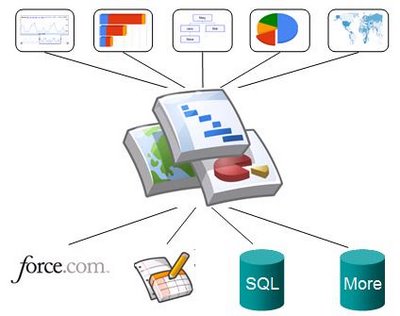 Sun Microsystems has released Java 6 Update 10, the so-called "consumer JRE" because of its ability to be deployed in a lighter-weight footprint (the "Java Kernel" or the core JRE classes) and download other classes on the fly as needed. The move is considered a necessary precursor to Sun's push into the RIA (Rich Internet Applications) space, where the accumulated bulk of the JRE is considered a drawback to faster, easier end-user distribution. Many of the improvements in Java 6u10 also pave the way for the future release of JavaFX technologies.
The New Java Plug-In
The Java Kernel is the key to the "Next Generation Java Plug-In Technology" for web browsers, which makes its debut in Java 6 Update 10. The most significant improvement in the new Java plug-in is the ability to launch applets from Java Network Launch Protocol (JNLP) files. This allows Java applets to reuse some of the extensions which had been previously available only for JNLP/Java Web Start technology, including access to JavaFX runtime libraries, support for 3D graphics via OpenGL, persistent data storage, and local filesystem storage. Other improvements in the Next-Gen Plug-In include better Java to JavaScript interoperability, a unified deployment mechanism for JNLP and applets, multiple JRE version support, classloader caching, new parameter arguments to <applet>,<object>, and <embed> tags, as well as numerous small improvements to the reliability and usability of applets. A full list of the new features is here.
Java Quick Starter
Also new to Update 10 is the Java Quick Start service, which preloads portions of the JRE onto the system disk cache, substantially decreasing the startup time. It is turned on by default in Windows 2000 and XP systems, but turned off in Vista since Vista offers its own preloading mechanisms.
Nimbus Look and Feel
Update 10 also comes with a new Swing look and feel, Nimbus. Nimbus gives a much needed face-lift to some of the stock L&F's available in the base platform with a richer, more attractive set of widgets.
Other Items of Note
Patch in Place. Update 10 brings the ability to do a patch in place when updating the JRE/JDK, allowing the simple upgrading of your installation.
Direct3D Support. On Windows platforms, the Direct3D pipeline has been completely revamped, offering much-improved rendering of Swing or Java2D applications which rely on alpha compositing, gradients, arbitrary transformations, filtering and other more advanced 2D operations. This upgrade relies on hardware acceleration (video cards) as well as the DirectX 9c runtime.
A complete set of notes on the changes in Java 6 Update 10 is available here.
Tagged:
We at Ajaxonomy are happy to announce the release of the first library in the Ajaxonomy Developer's Toolkit. The library is called JS Strict Data Types and attempts to provide a way to maintain strict data types in JavaScript. Strict data types are proposed in the next version of JavaScript, however it is hard to say when you will actually be able to use it in all browsers. So, JS Strict Data Types is an attempt to allow the use of strict data types now.
The library is very easy to use. Simply include the small 7K (uncompressed) js file in your web page or application and then you can start defining variable data types strictly through the methods used in the below example.

                        MyVar1 = new Int(12); //Creates an Integer variable
			MyVar2 = new Float(2.54); //Creates a Float variable
			MyVar3 = new String("Some Text"); //Creates a Sting variable
			MyVar4 = new Boolean(true); //Creates a Boolean variable

The library uses various methods to maintain the strict data type (if you choose not to use the methods in the library strict data types may not continue to be maintained). The below shows a few of the mathematical methods that are available in the library.

                       MyVar1.add(5);
                       MyVar1.sub(2);
                       MyVar1.mult(10);
                       MyVar1.div(7);

Since there are quite a few methods that are used to guarantee that strict data types it is recommended that you read the documentation before using the library.
This beta 1.0 release of the library is released under the GNU Lesser GPL. So, it can be used for personal and commercial use. Because of this go ahead and use the library in other libraries or any JavaScript project.
You can see a demo page that uses the library and displays the results here.
You can download the library here.
You can go to the projects Google Code page here.
You can read the projects documentation here.