News
Tagged:

Congratulations to the jQuery UI team on their release of jQuery UI 1.5!
jQuery UI provides low to high-level interactions and themeable widgets for your rich internet applications. Since it's built on the jQuery JavaScript Library, you have a solid foundation on which to build your apps. The library revolves around different mouse interactions, including drag/drop, sorting, selecting, and resizing. Also, you can expect to find the jQuery Enchant effects framework along with some reusable widgets [accordions, date picks, dialogs, sliders, and tabs] included in this release.
What's new?
- Refactored API
95% less exposed methods means 95% less methods you have to remember.
- Increased Stability
A dedicated bug tracker, new unit tests, and the addition of jquery.simulate.js - a plugin specifically designed to fire true browser events..
- Effects
As mentioned above, this release includes Enchant as a part of jQuery UI and includes features like advanced easing, class transitions (morphing) and color animations. You also get all the effects that come standard with script.aculo.us (blind,bounce,drop,fold,slide …), but also some new effects like transfer, explode. clip, and scale. Check out the demos.
View the changelog for a full list of features, bug fixes, and other changes in this release
Imagine you've downloaded a new UI library and are ready to integrate it into one of your applications, what's one of your big obstacles? That's right, figuring out how to get it to match your application's color scheme and look and feel. Wouldn't it be nice if you had a tool that could easily do most of the work for you?
Well get ready for ThemeRoller: a new theme creator for the jQuery UI library created by the crew at the Filament Group in Boston.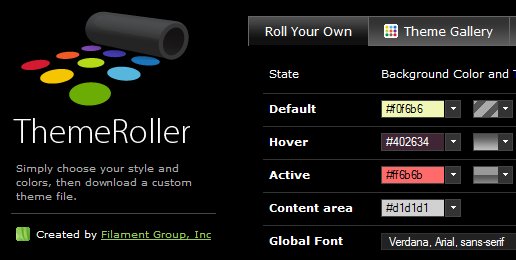 ThemeRoller gives you the ability to style your jQuery UI components in minutes. You can easily preview your theme as you make adjustments and when you're done, you can download a ZIP package containing the css, image, and demo page files for your theme. If you don't feel like rolling your own, or maybe want some inspiration, check out ThemeRoller's gallery to browse and download a variety of predefined themes.
Special thanks has to be given to the Liferay staff, who invested countless hours into the development of the new UI website, and with whom the team worked closely together to stabilize jQuery UI for all kinds of enterprise situations.
jQuery UI v1.5 Final Release: http://ui.jquery.com/download
Tagged:
TIBCO has announced a milestone release for their General Interface Ajax Framework. Version 3.6 Milestone 1 is a preview intended for anyone considering migrations of their existing GI applications.
Via the release notes, here are the new features included in this release:
General Interface Template Language
The General Interface template language simplifies the creation of custom GUI components by using a technique that is already familiar to web developers—it builds on your knowledge of HTML and JavaScript. Using the General Interface template language, you can convert a single snippet of HTML—a widget—into a re-usable component. This means that if you've developed user interface components that combine HTML and JavaScript code, you can convert the functional user interface HTML elements into a General Interface template for custom usage.
CDF Form Mapping
A new CDF form mapping class is included in this release, jsx3.gui.CDF. This new class enables developers to map a CDF document in the local cache to on-screen form fields. By combining the features of jsx3.gui.Block and jsx3.xml.Cacheable, this new class enables developers to read and write cache data without the need to author additional JavaScript code. In other words, this new class is a visual container that knows how to bind the form fields it contains to values in a CDF document: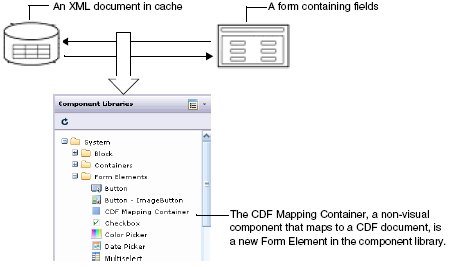 JSON mapping
General Interface has also added the JSON (JavaScript Object Notation) data interchange format to the XML Mapping Utility file types. The Mapping Utility uses these file types as the starting point to generate the mapping rules file. You specify the URL for the file you need for your use case, which contains a JSON string. The Mapping Utility evaluates the string and returns a JavaScript object.

To download GI 3.6 milestone 1, or the current stable release 3.5.1, visit gi.tibco.com
Also check out some additional GI resources and view the new GI Video Tutorials
Tagged:


Recently announced at the Ruby on Rails Weblog, Rails 2.1 has been released.
The new major features are:
If you are working on a project you probably want to have a quick mock-up so the business can easily understand how a web application will look. Well, Yahoo! has just made it easier to do so with their new Design Stencil Kit.
Stencils kits are available for OmniGraffle, Visio (XML), Adobe Illustrator (PDF and SVG), and Adobe Photoshop (PNG) and cover the following topics:

Ad Units
Calendars
Carousels
Charts and Tables
UI Controls
Form Elements
Grids
Menus and Buttons
Mobile - General
Mobile - iPhone
Navigation and Pagination
OS Elements
Placeholder Text
Screen Resolutions
Tabs
Windows and Containers

To use a design stencil, download the stencil kit compatible with your design application, launch your design application, and start adding stencil objects to your projects. Adobe Illustrator, OmniGraffle, and Visio users can ungroup stencil objects to customize and manipulate size, layout, and aesthetics.
You can read more about the stencil kit here.
You can go directly to the stencil kits here.
So, get the Design Stencil Kit and show the business what you are working on. Or even better, get your favorite Business Analyst to do it for you.
Google recently released Google Health. The application makes it easy for users to keep track of their medical records. Along with releasing Google Health they have also released the Google Health Data API.
Below is an excerpt about the Google Health Data API.
The Google Health Data API allows client applications to view and send Health content in the form of Google Data API feeds. Your client application can use the Health Data API to create new medical records, request a list of medical records and query for medical records that match particular criteria.

Here are some of the things you can do with the Health Data API:

Upload patient medical records.
Get patient medical data and provide personalized functionality based on that data.

How do I start?

If you're new to the Google Health Data API, here's how we recommend you get started:
You can learn more about Google's Health Data API here.
I can see a lot of uses of this API for medical related mash-ups.
Tagged:
What if you are making a new web application that needs to search through files instead of just web pages. Well, you could write your own solution or you could use an existing search engine like Lucene.
Below is an excerpt from the Step Three: Profit! post about using Lucene.
There are a number of considerations to make when adding search to your site. For instance, you can usually get by pretty well with just integrating Google search into your website. This is fast, easy, and doesn't require messing with your backend code at all.

However, this is not really what I want. I want to let users search for files, not web pages, and I want the results integrated nicely with everything else. For instance, it would be cool to use a search query as a radio playlist like you can do on Hype Machine. So I'll need to build my own search engine.

This is not really that hard to do. I would recommend you read some articles and then download Managing Gigabytes for Java. Those articles are by Tom from AudioGalaxy. You may remember AudioGalaxy as the best thing to happen and unhappen to music in my lifetime. I know do. More importantly, it was deliciously scalable and for the most part it was just a search engine. So don't go writing one without learning some tips from the best.

I'm sure that a little engineering and MG4J could produce a highly scalable search engine. However, I didn't really want to spend that much time on it, so I went with a higher level solution in the form of Lucene for Java. There is also a popular version for Python. I would recommend waiting a while if you're considering using Lucy (Lucene in C with Python and Ruby bindings) because I don't consider it mature. I'd also stay away from layers on top of Lucene like Solr because if you're looking for tools to make Lucene easier to use then you're missing the point that it's already easy to use.
You can read more about using Lucene as a web server here.
So, if you are looking for a good search engine that can search for files check out Lucene.
With the recent addition of 10 languages to the Google AJAX Language API, we have published an update to TubeSpy that includes support for Bulgarian, Croatian, Czech, Danish, Finnish, Hindi, Norwegian, Polish, Romanian and Swedish.
TubeSpy, a recent addition to Ajaxonomy Labs, is a YouTube Spy allowing you to see what videos others are watching on YouTube right now! TubeSpy was built using jQuery, the YouTube API, and more recently, the Google AJAX Language API to add support for other languages.
Adobe has released Adobe Flash Player 10 Beta. This looks very good and has some very interesting features.


Below is the run down of features from Adobe's website.
3D Effects - Easily transform and animate any display object through 3D space while retaining full interactivity. Fast, lightweight, and native 3D effects make motion that was previously reserved for expert users available to everyone. Complex effects are simple with APIs that extend what you already know.
Custom Filters and Effects - Create your own portable filters, blend modes, and fills using Adobe® Pixel Bender™, the same technology used for many After Effects CS3 filters. Shaders in Flash Player are about 1KB and can be scripted and animated at runtime.
Advanced Text Layout - A new, highly flexible text layout engine, co-existing with TextField, enables innovation in creating new text controls by providing low-level access to text offering right-to-left and vertical text layout, plus support for typographic elements like ligatures.
Enhanced Drawing API - Runtime drawing is easier and more powerful with re-styleable properties, 3D APIs, and a new way of drawing sophisticated shapes without having to code them line by line.
Visual Performance Improvements – Applications and videos will run smoother and faster with expanded use of hardware acceleration. By moving several visual processing tasks to the video card, the CPU is free to do more.
You can read more about Flash Player 10 Beta here.
The two features that stand out for me are the Enhanced Drawing API and the 3D effects. This could give some great effects for web pages.
Tagged:
If you have been using BuddyBlend you have probably noticed the addition of a few new features and services.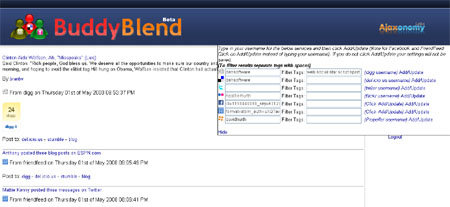 BuddyBlend now support the Propeller.com social network. We are working on adding more services, so keep an eye as we will be adding many more over the next month.
The next feature is the addition of the digg counter on all digg content. We hope that this will help keep you more connected to your digg friends.
The last and perhaps biggest new feature is the filter feature. This allows you to put tags or keywords that the system will look for to filter your friends activity! So, if you are only interested in Ajax, PHP and Java then it will only show your friends activity that has to do with these items.
We will continue to work to improve BuddyBlend and we would love to hear your thoughts on ways to improve the service.
BuddyBlend
You have probably seen our Ajaxonomy Labs section on the right hand portion of this blog. Well since we just launched our fourth application for the labs section we have decided that it is time for the labs section to have its own page.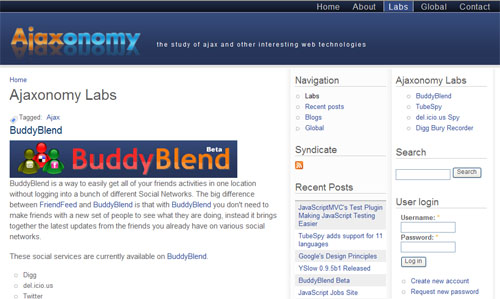 You can get to the page from the Labs link on the top navigation bar of this site. You will still be able to get to the four newest applications in the Ajaxonomy Labs section on the right hand portion of the page. However, all of the applications that we make will be available on the Ajaxonomy Labs page.
We would love to hear your thoughts on the page or on any of the applications. So, take a few minutes and check out the Ajaxonomy Labs page and leave your thoughts in the comments.