TIBCO
Now available for download is TIBCO's General Interface 3.6.2 service pack release.
Here's a summary of what's new in 3.6.2 from the release notes:
General Interface Template Language
The new template language enables you to create custom, re-usable components by building on your knowledge of HTML and JavaScript. Using the template language, you can convert a single snippet of HTML—a widget—into a re-usable component. This means that if you've developed user interface components that combine HTML and JavaScript code, you can convert the functional user interface HTML elements into a General Interface template for custom usage.

CDF Form Mapping
General Interface 3.6.2 introduces a new CDF class that enables developers to map a CDF document in the local cache to on-screen form fields—without the need to author additional JavaScript code. The new class, jsx3.gui.CDF, is a container that knows how to bind the form fields it contains to values in a CDF document.

JSON Mapping
The General Interface Mapping utility now supports mapping to JSON-based services. Similar to mapping to WSDL and XML, the new JSON mapping feature provides a visual tree to which the developer can assign mapping rules. JSONP is supported by default, which gets around cross-domain security problems when accessing data from other sites.
Read the full release notes for more information
Also available is the General Interface 3.7.0 Milestone 1, technology preview release. Go to the TIBCO Developer Network site http://www.tibco.com/devnet/gi for downloads and more info.
New in 3.7
Asynchronous Modular Platform (AMP), the Eclipse inspired plug-in architecture for building advanced modular and high-performing enterprise AJAX application.
Extensible GI Builder IDE based on AMP
Syntax highlighting script editor
and More ...
Tagged:


Announced this morning, TIBCO has released a new version (3.6.1) of its General Interface Ajax Framework. This release adds support for Firefox 3 and Safari 3.1.2+.
For more information on GI, check out this flashy product overview.
General Interface (GI) 3.6.0 has been released. This new version promises JSON data mapping (a very good thing as JSON is being highly used by Web 2.0 sites) and template custom control among other things.
Below are some of the key features highlighted on the GI website.
Make Richer Ajax Applications. Faster.

TIBCO General Interface™ 3.6.0
Professional Edition

• 100+ ready made Ajax controls

• Unparalleled visual tools

• Extensive docs


• Open source BSD licensed




General Interface 3.6.0 brings you:

• Template custom control

• CDF form mapping

• JSON data mapping and JSONP protocol support
One of the main issues that I have had with GI in the past is that it is very heavy on the front end load. Tibco has addressed this issue by allowing you to use different deployment types that allow you to fine tune what is loaded. This really helps the performance and makes the possible use of GI on public facing sites closer to a reality (there are still some browser compatibility issues that will keep the tool from major adoption on public facing sites).
You can learn more about GI (including downloading of the application) here.
The new version of GI is a good tool for developing Ajax applications for internal corporation use. While it is getting closer to possibly being useful in public facing applications, there is still some work to be done before I can see this happening.
Tagged:
TIBCO has announced a milestone release for their General Interface Ajax Framework. Version 3.6 Milestone 1 is a preview intended for anyone considering migrations of their existing GI applications.
Via the release notes, here are the new features included in this release:
General Interface Template Language
The General Interface template language simplifies the creation of custom GUI components by using a technique that is already familiar to web developers—it builds on your knowledge of HTML and JavaScript. Using the General Interface template language, you can convert a single snippet of HTML—a widget—into a re-usable component. This means that if you've developed user interface components that combine HTML and JavaScript code, you can convert the functional user interface HTML elements into a General Interface template for custom usage.
CDF Form Mapping
A new CDF form mapping class is included in this release, jsx3.gui.CDF. This new class enables developers to map a CDF document in the local cache to on-screen form fields. By combining the features of jsx3.gui.Block and jsx3.xml.Cacheable, this new class enables developers to read and write cache data without the need to author additional JavaScript code. In other words, this new class is a visual container that knows how to bind the form fields it contains to values in a CDF document: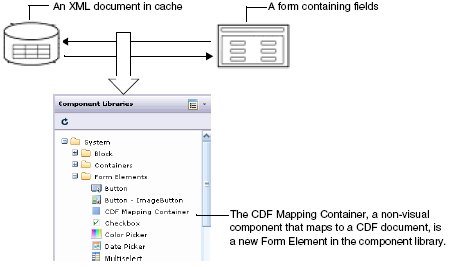 JSON mapping
General Interface has also added the JSON (JavaScript Object Notation) data interchange format to the XML Mapping Utility file types. The Mapping Utility uses these file types as the starting point to generate the mapping rules file. You specify the URL for the file you need for your use case, which contains a JSON string. The Mapping Utility evaluates the string and returns a JavaScript object.

To download GI 3.6 milestone 1, or the current stable release 3.5.1, visit gi.tibco.com
Also check out some additional GI resources and view the new GI Video Tutorials
Tagged:
AjaxWorld Magazine has posted an interesting post about TIBCO working closely with Microsoft. I find this quite interesting as TIBCO is usually thought to be more of a Java shop.
Below is an excerpt from the post.
TIBCO announced that the company is working closely with Microsoft to make it easier for customers to use their respective technologies together – giving them more power and flexibility over their service-oriented architectures.

The new technology integration and support announcements are focused on:

* TIBCO and Microsoft Windows Communication Foundation – enables Microsoft .NET Framework services and applications to easily communicate using TIBCO's Enterprise Message Service platform, giving these applications a degree of reliability and scalability not previously possible.
* TIBCO's selection of Microsoft Silverlight for Rich Internet Application development – Delivers the best experience for customers that have large-scale deployment and scalability requirements and complements what can be done using AJAX.

These announcements are the first wave of commitments focused on making it easier for customers to take advantage of their existing IT investments in software from Microsoft and TIBCO.

"We want to help customers make the most of their existing technology investments and provide them with the tools and infrastructure to continue to innovate," said Burley Kawasaki, director of the Connected Systems Division at Microsoft Corp. "By working with TIBCO to enhance interoperability with Windows Communication Foundation, we will make it easier for developers to create services across platforms."
You can read the full post here.
While much of this may be marketing speak it is interesting to see them "embrace" Microsoft at least to a degree.
Tagged: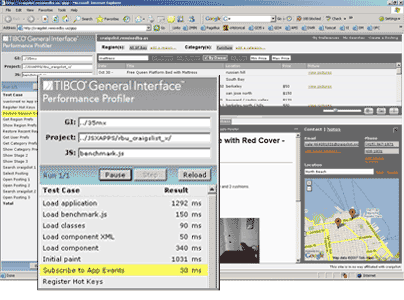 As the complexity of your Ajax applications increase, so do the opportunities for performance issues to arise. Checkout TIBCO General Interface Performance Profiler, an open source (BSD License) Ajax application profiling tool for benchmarking the performance of Ajax solutions created with TIBCO General Interface and other Ajax toolkits. Create performance testing scripts in JavaScript then run them against live applications to get performance statistics for selected operations within your application. The Performance Profiler is smart enough to let you handle asynchronous operations too.
With this profiler, you can now dissect your application to test how long it takes your services to respond, your components to render, your data to parse, and your functions to execute. Basically everything you need to pinpoint the bottlenecks in your code. One thing this profiler won't do -- optimize your code for you -- that's your job.