Web 2.0
Ajaxonomy's Digg Bury Recorder has added a new feature, you can now see the top buried stories. Our hope with this new feature is that you might find interesting stories that you may not otherwise know about.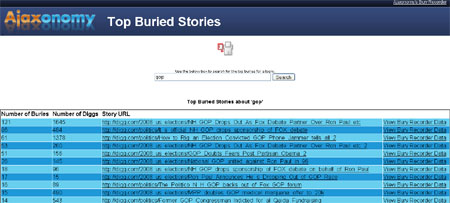 You can also search for the top buried stories for a particular subject. So, if you want to see the top buried Ron Paul stories, just search for Ron Paul and you will get quite a few results. Another couple of searches to try are iPhone and SEO.
The Top Buried stories are based on data from Ajaxonomy's Bury Recorder (some have started referring to it as ABR). ABR gets the bury data from all upcoming and popular stories, however once the story is fully buried (or auto buried which would possibly show no buries) it will not record any buries from the story as it has been fully buried. This means if a story is fully buried the last recorded bury is the bury that pushed it over the edge.
We hope that this list will be a welcome addition to the ABR. If you have any suggestions or questions about the ABR please leave a comment or if you think it would make a good blog post then sign up for a free account on this blog and write a story about it.
The below links will take you to the Ajaxonomy's Bury Recorder new feature and the application.
Digg's Top Buried Stories
Ajaxonomy's Bury Recorder
You've all used (or heard of) the iGoogle portal and probably have seen its many cool themes. Google has now opened up a Themes API to allow designers to build their own themes.
3 Steps to Building a Theme
1) designing images for the header and footer
2) entering metadata and color information in an XML file
3) and submitting the theme.
To find out more about the API, start with the developer guide.
Also check out these example themes, which, along with themes you submit, will be available in the new themes directory for the millions of iGoogle users:
Earth-light by Yves Behar, founder of the San Francisco design studio fuseproject: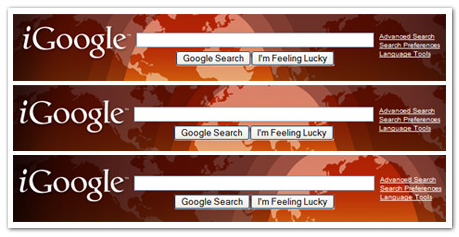 Adventures in Lollipopland by Mark Frauenfelder, writer, illustrator, co-founder of Boing Boing, and editor-in-chief of Make Magazine:


Supermoto Mayhem by Troy Lee, designer and founder of Troy Lee Designs: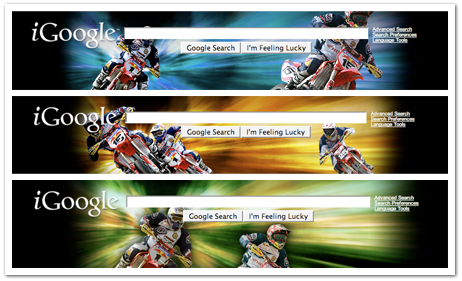 Simplicity is Complex by John Maeda, graphic designer, artist, Associate Director of Research at the MIT Media Laboratory, and recently named as the next President of the Rhode Island School of Design (RISD):


If you are developing AIR applications then this will be good news for you. Adobe has released an update for Flash CS3 Professional so that it can now open .air files. This coincides with the release of Adobe AIR beta 3.
You can download the Adobe AIR beta 3 release here
You can read the full story here.
Over at last100.com they have posted information on the new Google interface for the iPhone. The interface looks very slick and is apparently very fast (not being a lucky iPhone owner I can't test it out, but if any body wants to send me one let me know).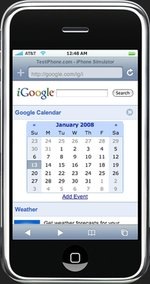 Below is an excerpt from the story.
Vic Gundotra, a vice president of engineering at Google, told CNet that — as a result of lots of people getting iPhones for Christmas presents — the number of queries on Google search from iPhones surpassed the number of queries from Symbian-based phones for the first time.

Think about it. Symbian is the market leader, used on phones from Nokia (the world's No. 1 handset manufacturer), Motorola, Samsung, and Sony Ericsson, among others. The iPhone's user base is comparatively teeny-tiny since the phone's introduction last June.

Of course the "Christmas crossover", as Google calls it, lasted only a few days, but as CNet rightfully notes,"It shows the impact the iPhone is having on the telecommunications industry and provides a glimpse into its future market potential on the Web."

"It's about usage, not just units," Gundotra said in an interview with CNet. "The data proves that people are using the browser on the iPhone."

igoogleBy providing a quicker, slicker user interface, more customization, iGoogle gadget integration, and more speed for all apps, Google is acknowledging the iPhone's rosy future. iGoogle on the iPhone can be reached by pointing the phone's browser at google.com/ig/i.

The standard mobile version of Google, made available just over a month ago, is still available at google.com/m, but it's more limited and is available only in the U.S. It brought together a suite of applications like search, Gmail, Calendar, and Reader into one easy-to-use interface.

With Google for the iPhone, users will get an improved UI optimized for the touch screen, customization of default tabs (easy access to favorite applications), faster Gmail (email automatically show up, no refreshing needed), a speedier Calendar (including a new month view), and iGoogle.
You can see the new interface by pointing you iPhone (or computer browser) to http://www.google.com/ig/i.
You can read the full post by clicking here
As with many people that get into programming, I started programming because I wanted to make video games (in-fact I have had a few games published about 10 years ago). Now that I am in the web development industry, I from time to time like to look at the developments in Video Game development as it pertains to the web.
The Yahoo! User Interface is a great library for development of JavaScript based applications, including Ajax applications. The library has quite a few methods to help with animation that can be very useful in developing games. Today, I'm not going to go into much detail on using the library to make a game (this will be in a later post), however, I do want to show you how well these games can look.
Check out the below games that where made using the Yahoo! User Interface.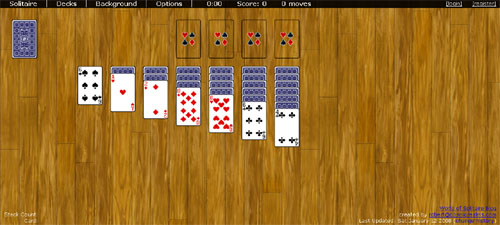 I was amazed at how close these games are to their Flash counterparts. Of course the advantage to using JavaScript over flash is that no plug-in is required to play the game.
You can read more about the Yahoo! User Interface here.
If you've seen any other cool games built using the Yahoo! User Interface I would love to hear about it. If you sign up for a free account you can blog about it on this blog or you can leave them in the comments.
Tagged:
You might be asking yourself - "Do we really need another lightbox library out there?" Well if you've ever implemented a lightbox library then you know that most are limited to only displaying images. Facebox is a bit different because it allows you to lightbox divs in a page, remote pages, as well as images. A couple of the screenshots on the site show Facebox used as a alert window, part of an image gallery, or as a preview of a remote file - check out the demos and screenshots on FamSpam.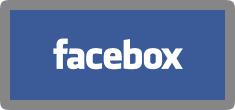 You'll notice that Facebox has taken its style from Facebook. But what you might not notice are the rounded corners on a Facebox. Some of you are tired of rounded corners and some of you aren't. If you aren't, then enjoy them. If you are, then just replace the corner images with sharp edges and you're all set.
Note that this library does require jQuery 1.2.1.
Visit the Facebox homepage to see some sample code and download the library
Tagged:
Remy Sharp has recently posted an entry on his blog about del.icio.us style tag suggestion using jQuery. If you've used del.icio.us then you're probably familiar with their tag suggestion feature as you type in tags for a bookmark. Remy has encapsulated this piece of functionality in a jQuery library he's made available for download.

The plugin has been successfully tested with:
IE 7, Firefox 2, Safari 3, and Opera 9.
Read the full post on Remy's blog to find out more about this plugin and to download the source code.
You may have seen quite a bit about the new Google Chart API, but you may not have seen a real world example. In the recent release of the Digg Bury Recorder I got some first hand practice in using th Google Chart API. When developing the application I found a few interesting nuances and knowledge of these could help you in using the API in your applications.
One of the most interesting things that I found is that the charting always graphs on a 100x100 basis starting at 0,0. This presented some issues in our application as it needed to graph things like 25 buries and 1200 diggs. The way that I solved this issue was to find the greatest number on each axis and take 100 divided by the greatest number from the points on each axis. Once you get this number you multiply each point it by the appropriate scaler for each axis (although it may not work correctly with points that are less than zero and you would have to adjust the equation to work around that).
The below is an example of an URL that would be used to create a line chart (this is taken directly from the Digg Bury Recorder).
http://chart.apis.google.com/chart?chs=300x225&chd=t:9,16,51,51,51,52,58,59,61,62,63,67,69,69,69,72,74,74,89,93,96,98,100,100|4,8,12,16,20,25,29,33,37,41,45,50,54,58,62,66,70,75,79,83,87,91,95,100&cht=lxy&chxt=x,y&chxr=0,0,155|1,0,24
The parts of this URL that I would like to point out are below:
chxr=0,0,155|1,0,24 - This builds the markers of the graph (in our application I used the greatest value for each axis)
&cht=lxy - This specifies an X, Y line chart that uses actual points (if you look at the Google Chart API documentation you will see that most examples use helloworld as the points, as each letter has a numeric value, but I prefer to just pass in numbers)

chd=t:9,16,51,51,51,52,58,59,61,62,63,67,69,69,69,72,74,74,89,93,96,98,100,100|4,8,12,16,20,25,29,33,37,41,45,50,54,58,62,66,70,75,79,83,87,91,95,100 

- This is a list of all the points (scaled as I mentioned before). It is important to note that a | is used to separate each axis.
The above Google Chart API URL will result in the below graph.

So now that you've seen my real world example you can check out the official Google Chart API documentation here.
If you make any cool applications using the Google Chart API let us know about it in the comments or you can blog about it on this blog when you sign up for a free account. If your post is considered interesting by the administrators of this site it will appear on the home page, otherwise it will be on your personal blog and under the blogs link.
By
TT
- Posted on January 4th, 2008
Need to accept email in your web application? Check out Email2HTTP.
You can write simple scripts in languages like PHP and immediately start accepting email in your web apps. Build features like craigslist's anonymous email addresses, TripIt's itinerary gathering, Flickr & Google Docs email uploads, etc. in no time.
Hope to see you there,
TT
Sample PHP script to handle an email & send a reply: