Yahoo
You may have used our del.icio.us Spy application and hopefully it has been useful in finding new websites and bookmarks. If you have a blog or website you may have thought that it would be cool to have a widget of what is on the del.icio.us Spy. Well, we have just released a del.icio.us Spy widget for your blog or website.
Amidst all the news swirling around about a hostile Yahoo! takeover, and the battle of the titans (Microsoft & Google), Yahoo! has released a new service - Yahoo! Live - a personal live streaming video service. [read more about Yahoo! Live at their blog]
Yahoo released an API [a set of Web Services and a couple of embeddable Flash objects] along with this new service. With this API, you can:
Find out who's broadcasting right now
Get data about past broadcasts
See snapshots of past broadcasts
Embed live video in your blog or web page
Do keep in mind that the service is currently in limited beta and is not always available.
You may get a message stating "Whoa! Yahoo! Live is an experimental release - we can tell you like the experiment! We're tuning now. Refresh, wait a few seconds, or click here to try again."
Read more about the Yahoo! Live API at the Yahoo! Developer Network and be sure to check out the Yahoo! Live Randomizer demo using REST/JavaScript.
Tagged:
In designing a web page most of us know that it is better to stay away from using tables in our design and instead use full CSS. This is great in theory, but in practice it can be quite a bit more complicated.
Well, Yahoo! has felt our pain and has built a visual tool to make page layout much easier. The tool is the Yahoo! User Interface CSS Grid Builder.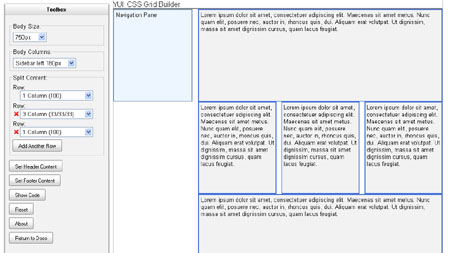 The tool is very easy to use, you simply click the various option to create the page layout that you would like. Once you have the page how you would like it, you simply click on the "Show Code" button and then copy and paste the code. Now you can start scripting and adding content to your page.
If you aren't already using this tool you should at least check it out (click here to go to the application).
I'm sure that you have already heard about the possibility of Microsoft buying Yahoo!. I'm not going to go in to much detail about deal, as I'm sure that you've already had your fill of that. Instead, I want to take a brief look into how this may affect Yahoo! in the future.
If Microsoft does in fact buy Yahoo!, it is very possible that all new development will be using Microsoft technologies instead of the current technologies. When I heard of this deal, the first thing I thought was that all the future development will be done in .NET technologies and run on Windows servers (can you say "nightly reboot"?).
From a web developers perspective, I really like the work that Yahoo! has done with the Yahoo! User Interface toolkit, but if Microsoft buys Yahoo!, will development stop as Microsoft tries to push Silverlight? Not to mention the possibility of abandoning JSON as Microsoft seems to prefer XML for Ajax applications.
I personally look at this with the worry that Yahoo! will stop being an innovator, as Microsoft looks to compete with Google and push their own technologies.
I would love to hear your thoughts on this, you can leave a comment or write a blog post with your free account on this site (once you login click on "Create content" => "Blog entry").
Tagged:
Yahoo! has just announced that it would begin supporting OpenID 2.0 technology for both yahoo.com and flikr.com by the end of the month.
Yahoo!'s initial OpenID service, which will be available in public beta on January 30, enables a seamless and transparent web experience by allowing users to use their custom OpenID identifier on me.yahoo.com or to simply type in "www.yahoo.com" or "www.flickr.com" on any site that supports OpenID 2.0.
With the addition of 248 million Yahoo! users, the OpenID user community essentially triples in size (going from an estimated 120 million users to 368 million).
More information regarding Yahoo!'s OpenID support can be found here.
As with many people that get into programming, I started programming because I wanted to make video games (in-fact I have had a few games published about 10 years ago). Now that I am in the web development industry, I from time to time like to look at the developments in Video Game development as it pertains to the web.
The Yahoo! User Interface is a great library for development of JavaScript based applications, including Ajax applications. The library has quite a few methods to help with animation that can be very useful in developing games. Today, I'm not going to go into much detail on using the library to make a game (this will be in a later post), however, I do want to show you how well these games can look.
Check out the below games that where made using the Yahoo! User Interface.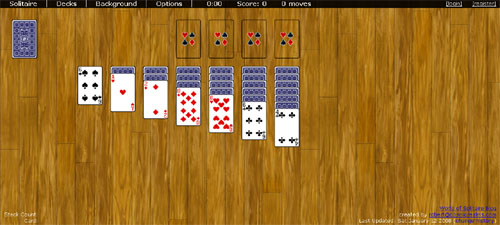 I was amazed at how close these games are to their Flash counterparts. Of course the advantage to using JavaScript over flash is that no plug-in is required to play the game.
You can read more about the Yahoo! User Interface here.
If you've seen any other cool games built using the Yahoo! User Interface I would love to hear about it. If you sign up for a free account you can blog about it on this blog or you can leave them in the comments.
Tagged:
Cuong Tham over at Code Central created a YUI based Lightbox library and has just released the final version. For those of you unfamiliar with Lightbox, check this out.
What's New in this release?
The most significant change in this version of the lightbox is that image thumbnails are no longer required for creating lightbox instance. That implies that you can create an image gallery without the presence of image thumbnails. The more exciting aspect of this new feature is that you can virtually grab any image from the internet and include it in your gallery.

Below is the detailed list:

* Ability to view full size and auto-fit version of the image
* Settings for changing background mask opacity and color
* keyboard shortcuts
* Tooltip panel for displaying extra information
* Navigation control toolbar
* Image transition effect
* External stylesheet for styling

Bug Fixes

* Fixed image goes outside of viewport bug
* Removed extra scrollbar when the image can be fit into the viewport

The lightbox has been tested in Firefox 2.0.0.6, IE 7, Opera 9.21.
Check out a demo with thumbnails and without thumbnails [I recommend the black or the white theme as they look best].
One thing to note is that this is a hefty Lightbox implementation, weighing it at around 63KB for all required JavaScript files whereas the original Lightbox library only required about 13KB of JavaScript. That's a high price to pay for a cool gallery. But nevertheless, thanks to Code Central for putting this out, it's nice to see the differences in their implementation. If nothing else, you can download their source and play with it in your sandbox.
Click here to read the full article and download the source code.
Straight from the Yahoo Developer Network, Jason Levitt informs us that Yahoo Maps is now using pure JavaScript instead of a hybrid of Flash and JavaScript. If that wasn't enough, he also informs us that a new version of the Maps AJAX API will be available next year! Read the full post below:
You'd hardly know it by going to maps.yahoo.com, but Yahoo! Maps are now pure JavaScript instead of a hybrid of Flash and JavaScript. Lead Maps Developer Mirek Grymuza and the Maps team have done an amazing job of seamlessly moving the Maps client over resulting in at least double the performance of the previous Flash-based version.

The good news for developers is that the new Yahoo! Maps client uses an enhanced version of our Maps AJAX API which will be available to developers in 2008. This substantial upgrade of the Maps API will provide access to all the overlay components available in the consumer client and will give developers significant overlay flexibility. It's going to be a great new year for Yahoo! Maps users and developers.
Read the original post at the Yahoo Developer Network here.
Google and Yahoo reportedly have a similar idea to compete with MySpace and Facebook. The idea is to turn your email account into a social network. This seams to be a great idea since people go into their email to connect to other people.
Apparently they will be combining their email along with their personal pages to create the social network. Since e-mail already has contacts that would act as friends and the personal pages would have an added public version to create the effect of a home page (like those in MySpace or Facebook) it seems to be a perfect match.
The following is an excerpt from an article on Bits.
Web-based e-mail systems already contain much of what Facebook calls the social graph — the connections between people. That's why the social networks offer to import the e-mail address books of new users to jump-start their list of friends. Yahoo and Google realize that they have this information and can use it to build their own services that connect people to their contacts.

I don't have a lot of detail from Google, but I've heard from several executives that this is their plan. When I talked recently with Joe Kraus, who runs Google's OpenSocial project, he said: "We believe there are opportunities with iGoogle to make it more social." And when I pressed him about the relationship between the social aspects of iGoogle and Gmail versus Orkut or some other social network, he said, "It is much easier to extend an existing habit than to create a brand."


Brad Garlinghouse (Photo: Neal Hamberg/Bloomberg News)

Brad Garlinghouse, who runs the communication and community products for Yahoo, was a lot more forthcoming. He didn't-have dates or specific product details either. But he did say that Yahoo was working on what he called "Inbox 2.0."

This has several features. First, the e-mail service is made more personal because it displays messages more prominently from people who are more important to you. Yahoo is testing a method that can automatically determine the strength of your relationship to someone by how often you exchange e-mail and instant messages with him or her.

"The inbox you have today is based on what people send you, not what you want to see," Mr. Garlinghouse said. "We can say, here are the messages from the people you care about most.

Yahoo Mail will also be extended to display other information about your friends as well. This can be a link to a profile page, and also what Yahoo calls "vitality" –- updated information much like the news feed on Facebook. There could also be simple features that are common on social networks, like displaying a list of friends whose birthdays are coming up.

"The exciting part is that a lot of this information already exists on our network, but it's dormant," Mr. Garlinghouse said.

What Yahoo is missing in this vision is a personal profile, where users express their interests and personality to others. Yahoo, of course, has had many different takes on this over the years: its member directory, Geocities, Yahoo 360. It recently started Yahoo Mash. But none of these is quite right, Mr. Garlinghouse said. Mash is simply an experiment, not a product being readied for mass promotion.

There will be some sort of profile system attached to Inbox 2.0, he said. For people who use a lot of Yahoo services, this profile could be quite rich even at the beginning, as it can draw on activity on Yahoo Music, Yahoo Shopping and so on.

"If I get an e-mail from Saul Hansell, I should be able to click on his name and see his profile," Mr. Garlinghouse said. "The profile page is where you can expose what you want people to know about you.

In this vision, people have two pages: a profile they show to others and a personal page on which they see information from their friends as well as anything else they want, like weather or headlines. That's different from MySpace, which combines all this into one page.

Already My Yahoo and iGoogle are increasingly collections of widgets that hold content and applications from multiple sources, some of them already social, like e-mail and feeds from social sites like Flickr. But much more is coming.

This approach has a lot of potential and a few pitfalls. To start with, everyone who joins Facebook understands that what they do on the site is about sharing information with friends and sometimes strangers. People who use Yahoo Mail, or just exchange messages with someone using a Yahoo Mail account, have no such expectations. So the company will have to be very careful in how it explains what it is doing and ask for permission in the right places.

"This isn't a separate product," Mr. Garlinghouse said. "This is an integration that has to be seamless to the user."
Read the full article here.
I could see the Yahoo social network incorporating Flickr, del.icio.us and Yahoo Instant Messanger. While Google could perhaps incorporate YouTube. Depending on how much integration happens with other services owned by the companies could depend on exactly how quickly the networks could become huge. If each company where to really integrate all of the social networking related services that they own their would be a huge danger of making a network that has no targeted audience. It will be interesting to see what they create.
Since both companies already have so many users of their services the social networks would instantly have a number that would make them among the largest. It will be interesting to see how well the integration of the various services will be. If it is done well these could quickly become to the top two social networks.