YouTube
This winter break (or as we used to call it when I was still in school, Christmas vacation), I worked on a little web application. The application was going to be for an automotive related blog that I write on, but once I started working on it I realized that the application was better if it wasn't restricted to just automotive information.
The application is called scovry and it is a web discovery application. You may notice that we at Ajaxonomy love spy applications (notice that in Ajaxonomy labs we wrote delicious Spy and TubeSpy). scovry is kind of a blend of these spy applications along with gathering information from many other social media sites and social networks. Beyond this the site adds a social element by allowing comments and easy sharing of items found on the site.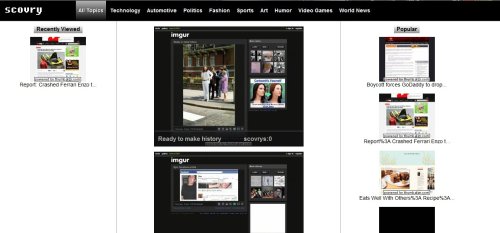 From a programming side, in order to load all of the data and keep the server happy I used a lot of caching. The caching code I used was based on the Easy Server Side Caching in PHP article that I wrote a while back. With some small changes, the biggest of which was using readfile() instead of include(). I even modified the caching script to cache images that are loaded from the thumbnail service to make loading much faster (not to mention to reduce requests for images).
Over at Read Write Web they have written a very interesting post about Google. They ask a great question, Is Google Spreading Itself Too Thin? This is a very interesting question as in recent years Google has expanded way beyond search.
Below is an excerpt from the post.
What About Chrome?

Chrome showed Google's brand power in the market. A pretty geeky story (better performance and sandbox security for plug-ins) got tremendous traction in the media and prompted people who had never even made the jump from Explorer to Firefox to look at Chrome.

But it is very hard to see any strategic advantage for Google in splintering the browser market even further. Surely their interest lies in making sure Firefox gains against Explorer? Why not simply continue helping Mozilla?

This looks like an engineering project (yes, a very cool engineering project) that got out to market with a "oh, well, why not, seems a shame to throw it away" rationale.

Has Boredom Become an Issue Inside the Googleplex?

It is almost as if Google is bored. The cash just keeps rolling in. How do they exercise those amazing minds? This is not an uncommon problem. My first job was with a small publishing company in London that had one amazing cash cow and lots of "loss leaders". I naively asked one of the owners why he did this, why not just have the cash cow? He thought for a while and said "well, what would I do every day?"
You can read the full post here.
So, let me know your thoughts, Is Google Spreading Itself Too Thin?
With the recent addition of 10 languages to the Google AJAX Language API, we have published an update to TubeSpy that includes support for Bulgarian, Croatian, Czech, Danish, Finnish, Hindi, Norwegian, Polish, Romanian and Swedish.
TubeSpy, a recent addition to Ajaxonomy Labs, is a YouTube Spy allowing you to see what videos others are watching on YouTube right now! TubeSpy was built using jQuery, the YouTube API, and more recently, the Google AJAX Language API to add support for other languages.

TubeSpy, our YouTube application from Ajaxonomy Labs, now supports 11 new languages. By utilizing the Google Language API, TubeSpy is now able to dynamically change the language used in the application.
Languages now supported by TubeSpy include: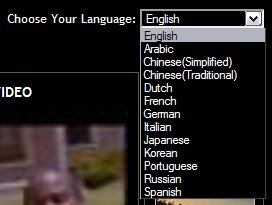 English
Arabic
Chinese
Dutch
French
German
Italian
Japanese
Korean
Portuguese
Russian
Spanish
Here's a sample in Russian: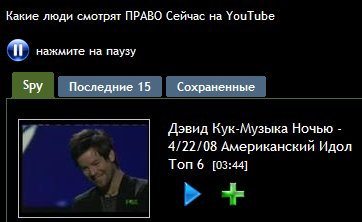 The app is still in beta, so be aware there may be some layout/formatting issues with the additional languages. In any case, please send us your comments, bugs, and feature requests.
You might have caught on to the fact that we here at Ajaxonomy appreciate the spy game. We are happy to announce a Beta version of TubeSpy, the latest addition to Ajaxonomy Labs. TubeSpy is a web based spy that allows you to see what videos are being watched on YouTube right now. YouTube has a widget like this on their homepage and TubeSpy was an effort to turn that widget into an app.
TubeSpy was built with jQuery, a fantastic JavaScript framework, the jQuery UI library for the tab controls, and of course, the YouTube API. Tested in IE6, IE7, and Firefox 2.

With TubeSpy you can:
see what others are watching
watch videos without leaving the page you're on
save videos as you see them scrolling
easily watch related videos
and more...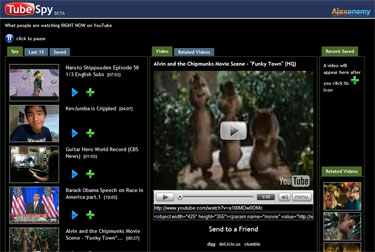 The more you use TubeSpy, the more interesting it becomes. Watching as videos scroll by creates a small, constantly shifting, window into the world. Visit TubeSpy after news breaks in the political world and you'll find some political videos, check it out after your favorite reality show airs for clips people have posted.
We hope you enjoy using the app and find some value in it. Feel free to post any feedback in the comments. Do keep in mind that this is a Beta release, and calling it a Beta release is a CYA (Cover Your Apps) measure to have an excuse in case a bug pops up in the app.